I know it must be lovely to wing your way through the countryside without a care in the world BUT that probably means you're going to get lost, you're going to get more tired, you're going to cycle further and people are going to get grumpy.
So with that focus and my control freak nature I wanted a method which meant we wouldn't get lost. And not forgetting that I'm a bit tight with my money the solution had to be cheap or free…free would be better.
Use your phone
I learned about the GPX/KML/KMZ maps and that software was available for free for all of the major mobile phone operating systems. I've got Android and I chose to use Locus Map Pro, which I ended up paying a whole £5 for. There is a free version but I was feeling extravagant.
EDIT: Since 2015 my go to app is Maps.Me (or Maps With Me as it's also called). I've used this in several countries and it's great, it's free and it's easy to use. Maps.Me on Play store and Apple store.
Offline maps are essential
It's essential you've got offline maps on your phone and aren't tempted to use an online method of viewing, because when you're in the middle of nowhere, have no mobile signal and no idea which road to go down you'll feel pretty silly.
Maps.Me gives you offline maps, for free.
Open up Maps.Me, move the map to somewhere you're going to be cycling, zoom in a little and it will download that map section to your phone.
That map section is now usable offline.
Repeat for all other areas you're interested in cycling.
Creating map files for use with Maps.Me, LocusPro or other software
If you're going to follow my route then you can just download the maps from the Routes pages, or get them all from here.
If you want to do something different here's the process I would follow to create a route file.
1. Use Strava and create a new route.
2. Export GPX file from Strava
3. Use GPSVisualizer's Convert your GPS data for use in Google Earth tool to create a KML file.
4. Send KML file to phone (via USB, Bluetooth, email, or GoogleDrive etc) and open in Maps.Me.
5. Make sure it works before the day you set off!
How to see the maps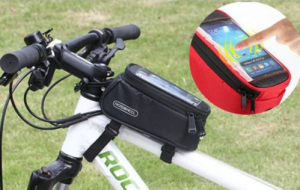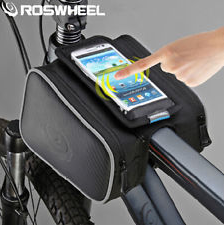 A top tube frame bag is relatively cheap and works very well, apart from as you can expect in very bright sunlight when you're proudly wearing your new LondonToParis white cycling jersey!
Cost: £5-£10 depending on size of phone.
Sue and I had the one on the left, Alan had the one on the right, Tim had something different again.
But what about battery life?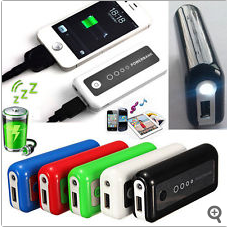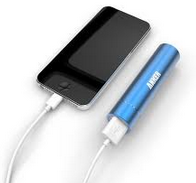 Well that's easily solved too, buy a mobile charger.
And put your phone in Flight Mode whilst riding too. Putting my phone in flight mode meant I didn't need to charge my phone during the ride, even though I had a charger with me.
There's various chargers around, like the heavy duty ones on the left which will recharge a phone 2 to 5 times or more (£10-£30), to simple single charge ones (£5-£10) like the one on the right.
Cost: £5-£30 or more, depending on how many recharges you want.
So no paper maps whatsoever?
Well, yes, I admit I did take some and I did use them.
I printed off cross-sections of the route and used them to see how far away towns were, but not for navigation as such. In essence I could have just written down towns and how far along each trip they were.
And finally…
Make sure several of your group have the ability, software, maps, and routes to be able to navigate. It's not fair to only have one person as it means they have to ride at the front for the whole ride. Also if your group has to split for any reason then navigation for both parties isn't a problem.