Everyone I've ever ridden to Paris with – 45 people – has used panniers. The thought of using a backpack with 4-6kg on your back for 200 miles makes me wince. With panniers, when you're rolling you won't feel they're there, until you hit a hill.
On this page I'll go through pannier racks and pannier bags.
Can you fit a pannier rack to your non-carbon bike?
I've got a non-carbon bike with pannier mounting points it's easy to fit a standard rack.
If you've got a non-carbon bike without pannier mounting points you can buy a seat post rack mount collar, plus buy some p-clips for the lower mounting points.
Can you fit a pannier rack to your carbon bike?
If you've got a carbon bike you still can do it, but really you need to decide what you're comfortable doing.
You should be able to fit a seatpost collar and you may feel comfortable using padded 'p-clips' at the bottom.
If not then there are racks which mount onto your rear wheel's axle which along with a seatpost collar should be okay.
Alternatively there's racks which mount around the seatpost and extend backwards. I doubt this is suitable for a carbon seatpost though, so you may need to buy a non-carbon seatpost.
Another option is to get a rack which can be fitted on to the Quick Release Skewer, like the Axiom Journey Uni-fit Mk3 from Halfords.
If in doubt check with your local bike shop.
Can you fit a pannier rack to a bike with disc brakes?
You can either go for a seatpost mounted rack, or get a pannier rack with extended mount points.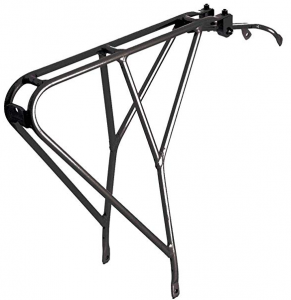 My pannier rack
With a non-carbon bike which has mounting points I've got the easiest option, however I don't much care to having to take my pannier rack on and off and I don't want to be riding around with an ugly rack on the back of the bike.
So I've got one of these Tortec Velocity racks which stays on all year round.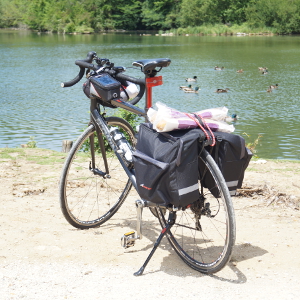 Pannier bags
There's many different types of pannier bags, all seem to work well, so it's a question of how much stuff you plan to take. The 'What to take' page shows the stuff I take, so take a look at that in conjunction with this page.
NOTE: whatever you buy make sure it's either completely waterproof, or it has a cover, or you buy one. Forecasts can change a lot in four days.
You should easily be able to fit all your gear in a 40 litre pannier bag/set, like the ones in the picture on the right, my first set from 2015. Or possibly even a 20 litre pannier bag, see below.
My current pannier bags
After two rides to Paris my original set died, a wiggle going up a hill in 2015 saw them move and get caught in my wheel, which tore one bit leaving a gaping hole.
Currently I have a set of Eigo 42 Litre Panniers which work much better and are very useful for commuting. Cost me £35 on eBay and come with waterproof covers already zipped into a pouch, so less faffing.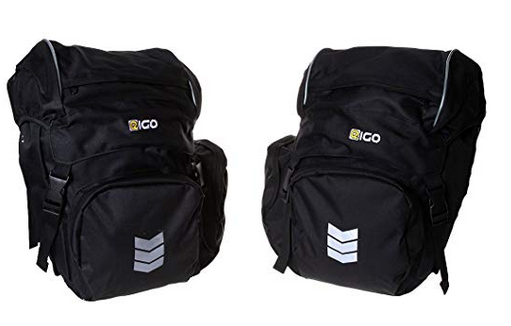 However, with this year's kit packing I seem to managed to pack everything in one!