After consuming perhaps a little more than the advisable quantity of red wine last night I felt fine today, waking up at 7:30am and feeling like I'd do major damage to the breakfast planned for 9am. At 11am, with legs feeling fresh – had I really cycled 200km in the last two days I wondered – it was time to set off on what was likely to be the easiest day of cycling so far, under a sun-laden azure sky. Note to self: pack sunscreen next time and apply often.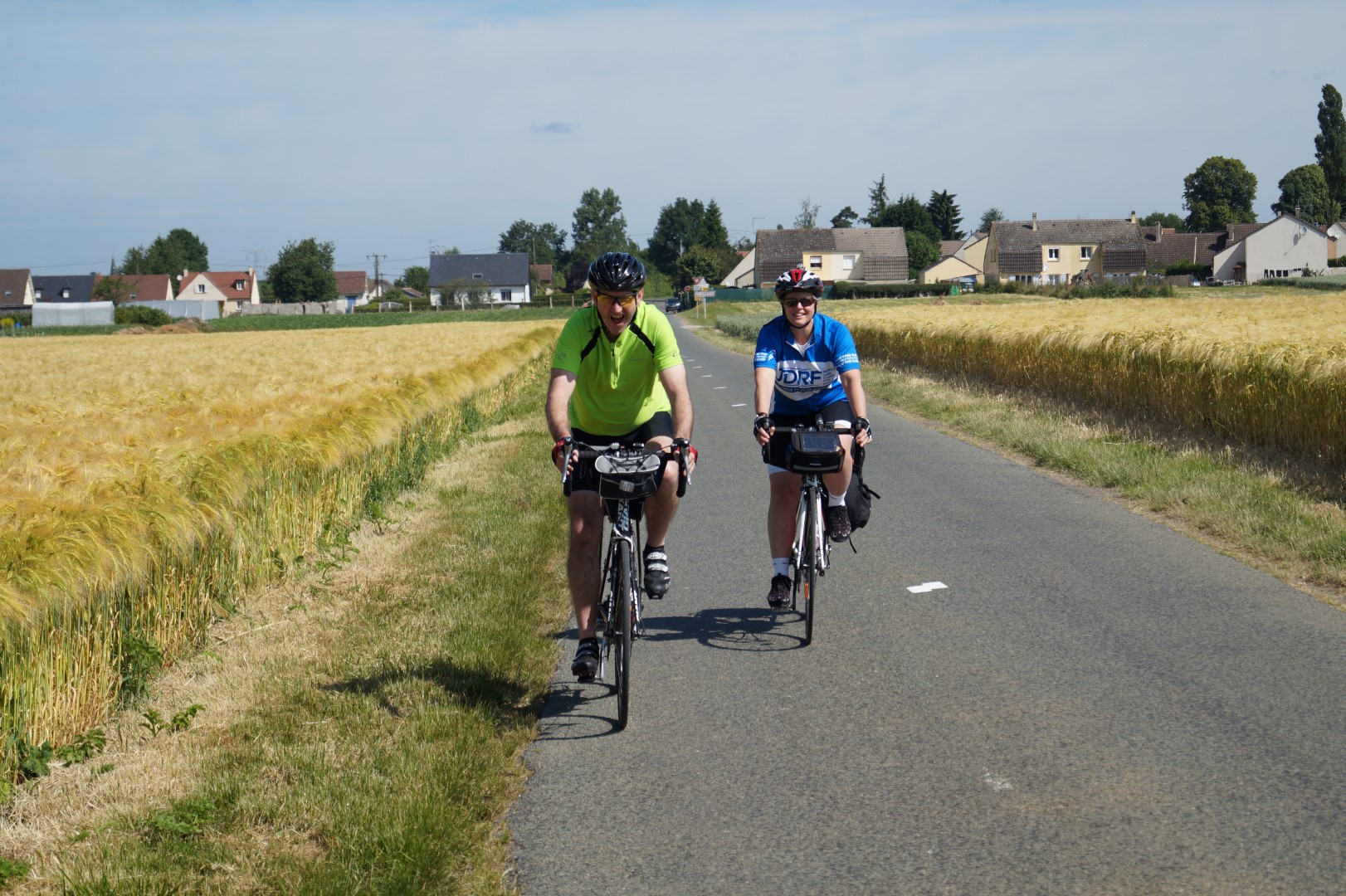 Marie, the owner of Le Confiturier de Malethi, told me that we needed to turn left and then right at the main road to get back on the normal route to Paris, but not for us as today we were to try a route all of my own, a route I had confidence in but a route that I was slightly nervous about getting right, not wanting to wish that we'd taken the normal route. I'd checked it all out in Google's Streetview, well as much as possible. Our next accommodation at Triel-sur-Seine was slightly off route so it made sense to make my own route up anyway.
A key route of the design of this route was that we criss-crossed the railway line so had a few options should something go drastically wrong. Trips supported by vehicles don't have to worry about stuff like this but it's something worth considering when planning your own route.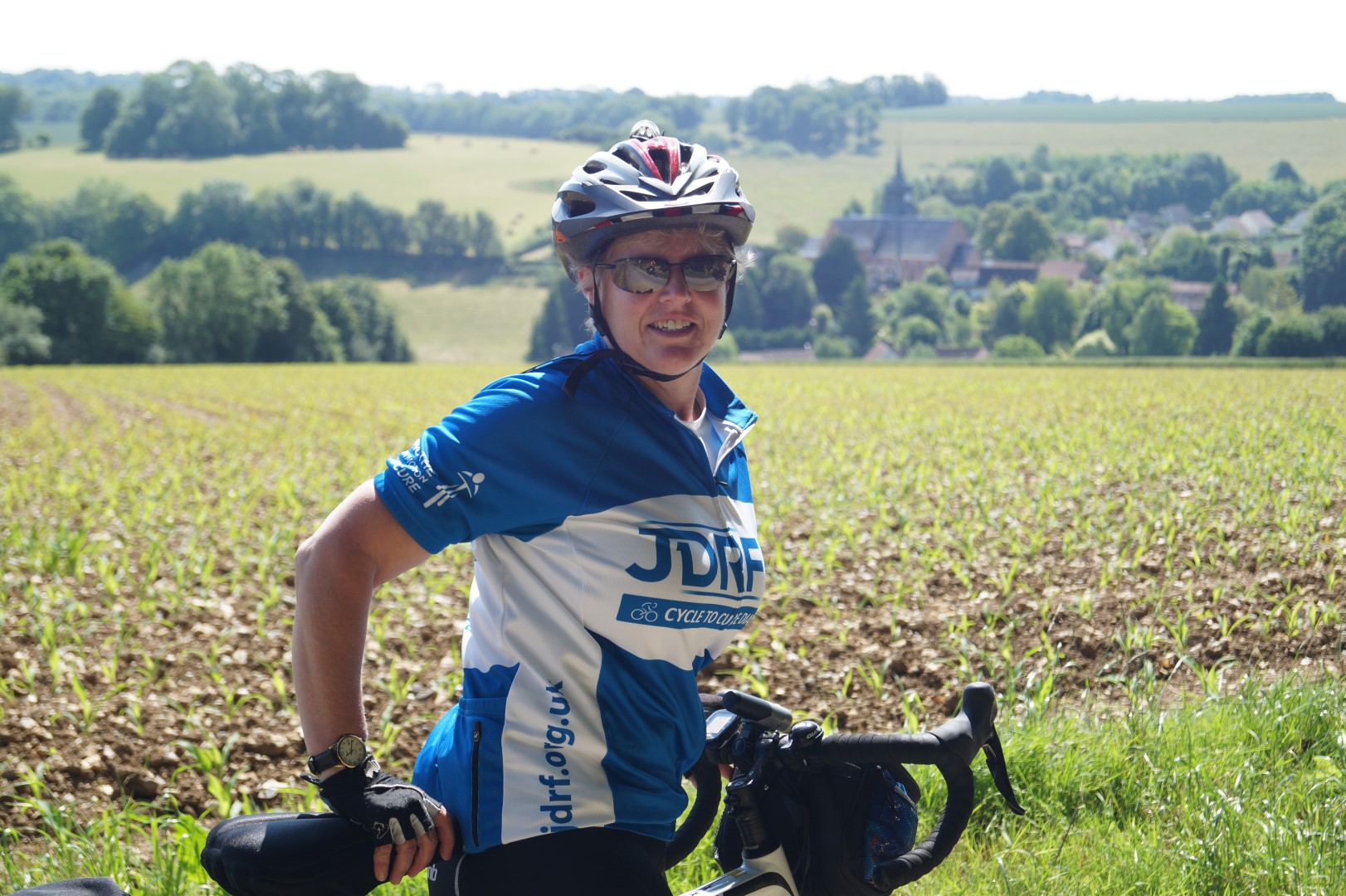 At 11:09 we set off, turning right and almost missing our immediately left turn which came up a lot quicker than I'd realised it would. Immediately the countryside was gorgeous as we entered a shadowy tunnel-like downhill section before entering Le Montecornet and potentially the first route issue. The route went straight on, the sign said 'Sauf Riverains' (except residents), hesitantly we cycled on and we're so glad we did, especially for the view of picturesque Labosse off to the left and the 10% drop off we sped down – although it seemed to be 15% on the way back up!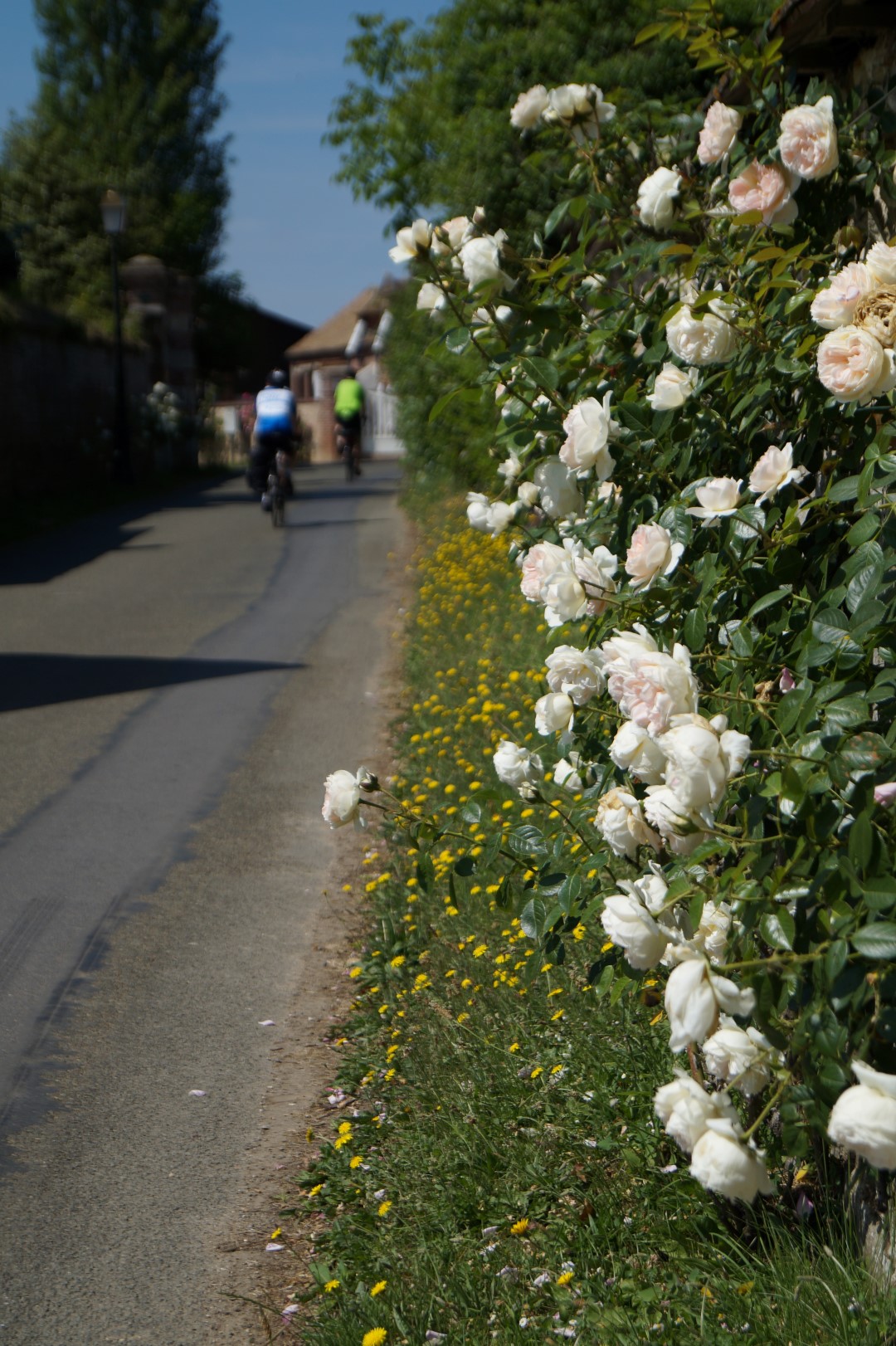 After the climbing seemingly on top of the world we rolled through farming land, through Le Bohon, towards the speedy D981 which we were thankfully only on for 600m before taking the unsignposted left turn towards Thibivillers.
It's quite open here so we were glad of a non-existent wind as we watched the Buzzards in the sky.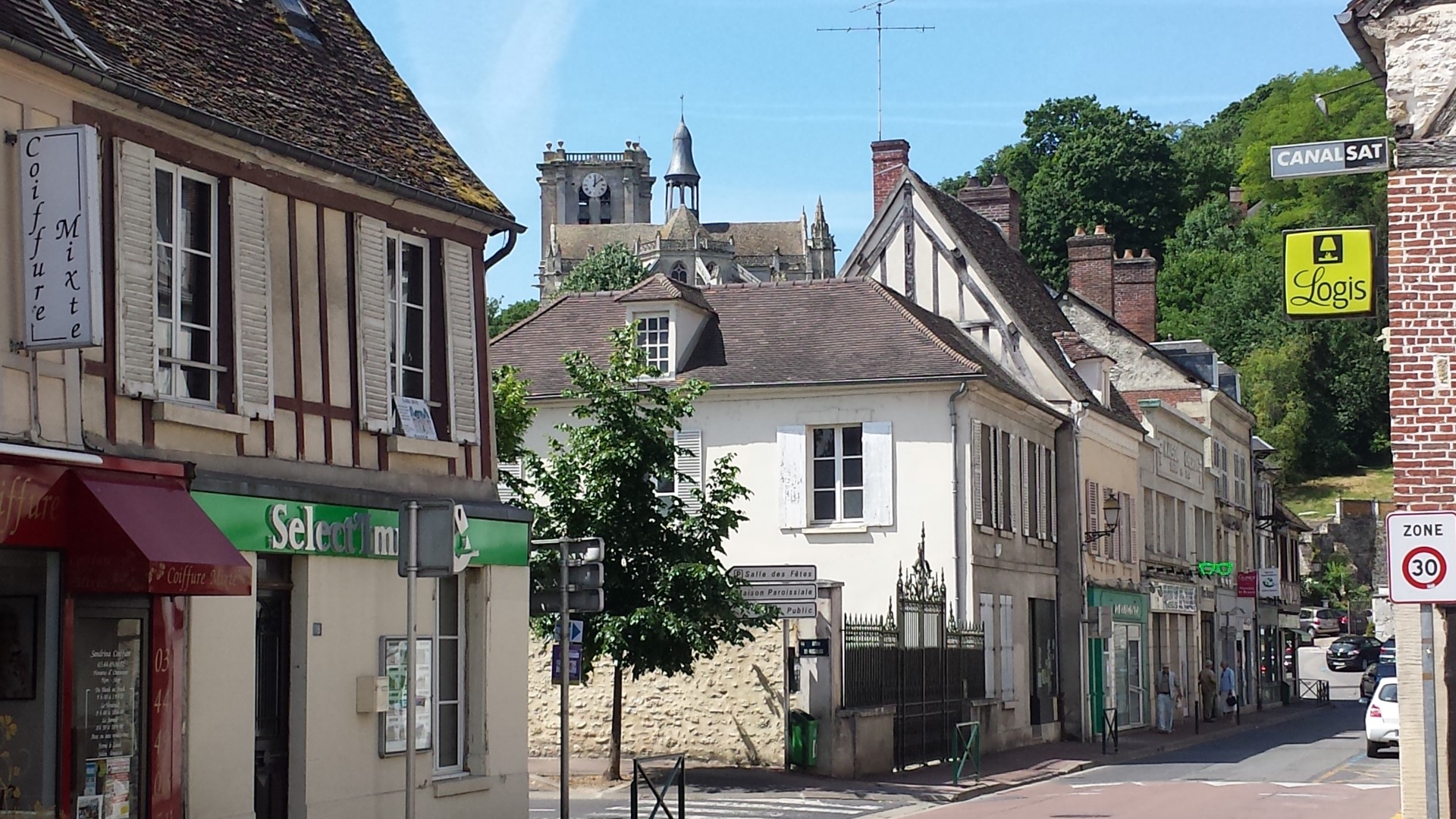 The decent dropping descent to the pretty town of Chaumont-en-Vexin gave us some time to enjoy the countryside and although the road was a bigger road there was barely any traffic. One of the main reasons to go via Chaumont-en-Vexin was to be able to buy any groceries we required and after the success of the previous day's picnic we bought more baguettes, ham and cheese for our stop at a lake (near Lavilletertre) I'd earmarked when planning the the route.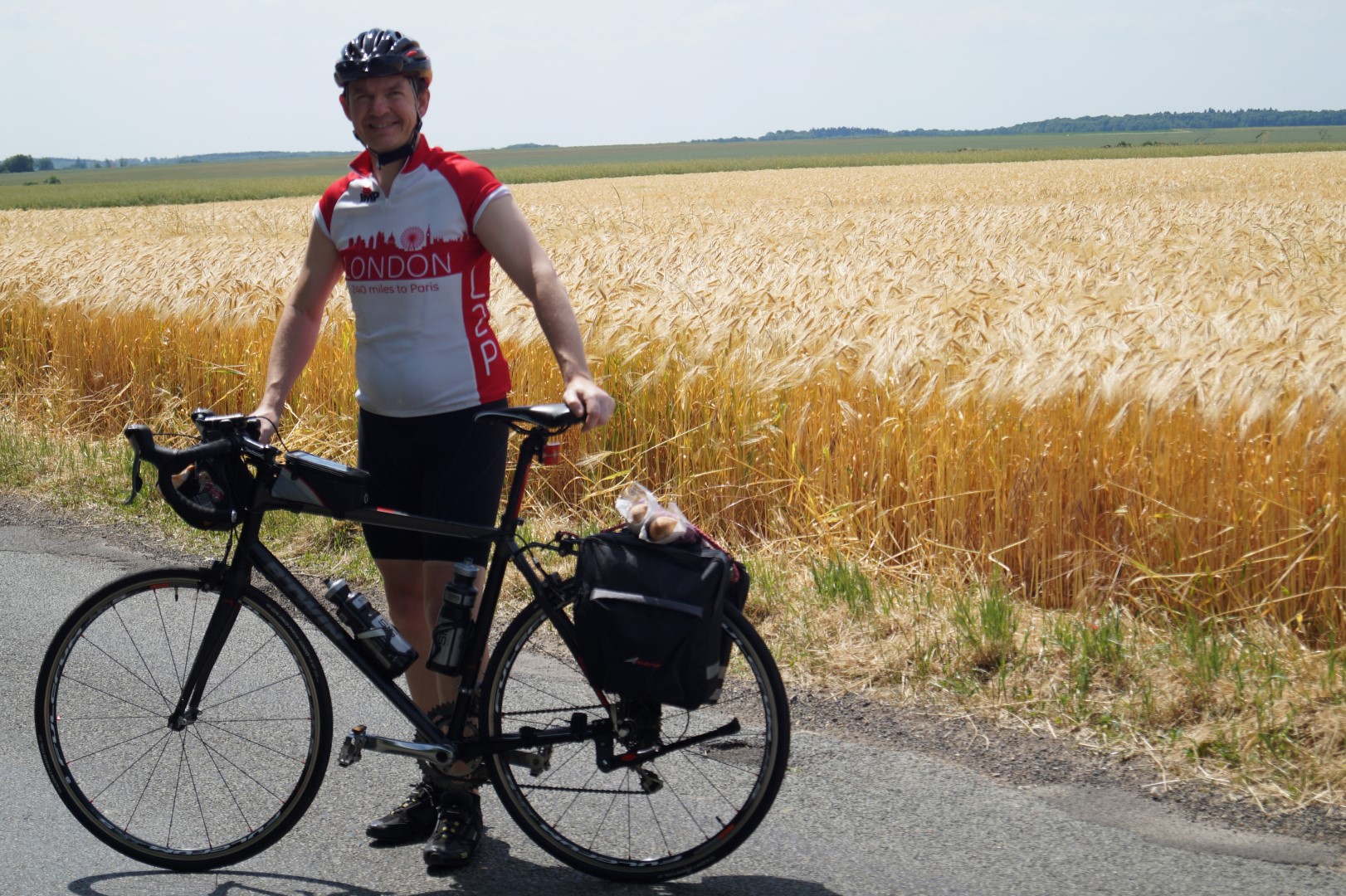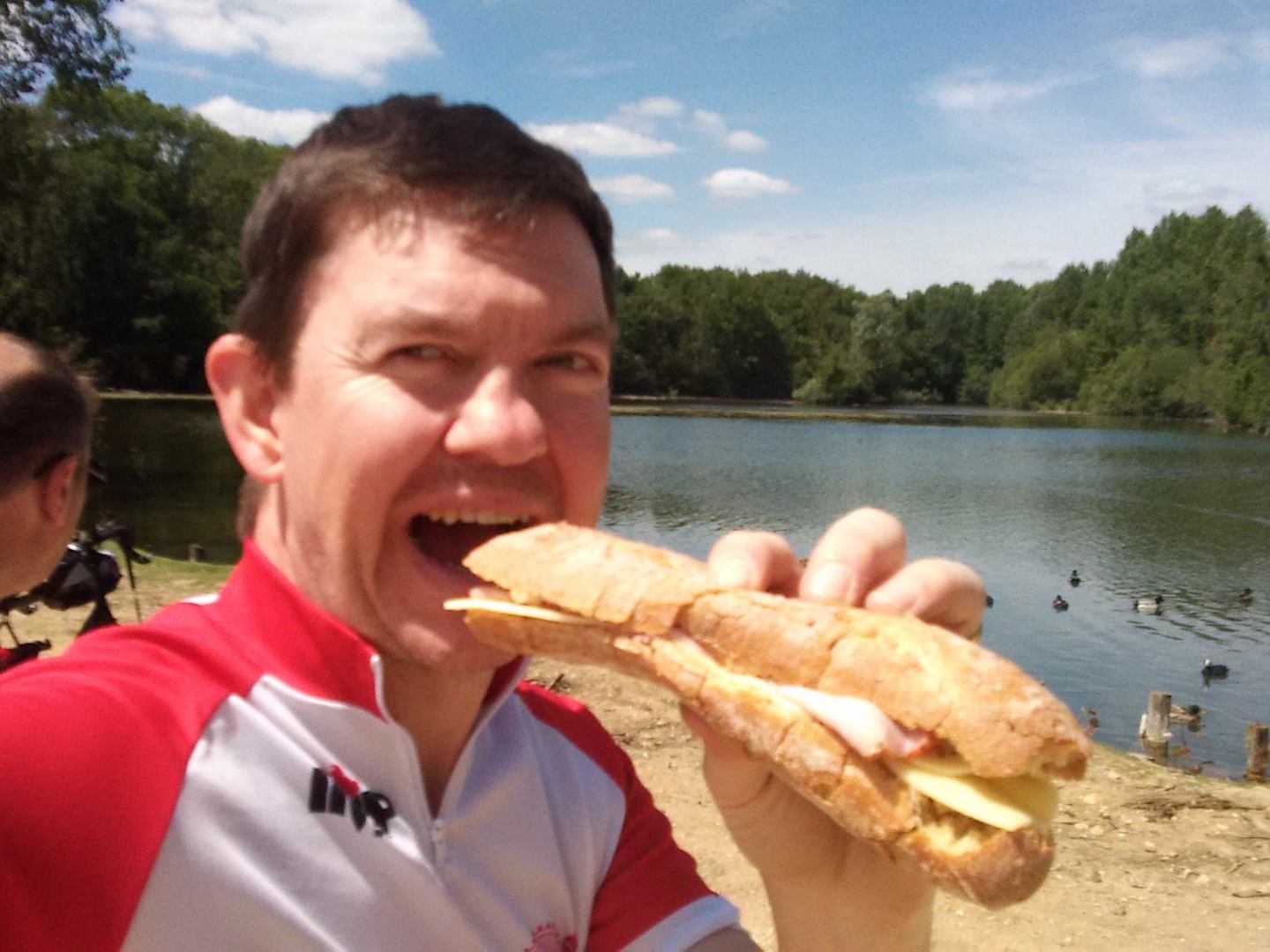 The pretty sleepy village of Lavilletertre and its pond offered a chance sighting of a Heron whilst the bugs decided Alan's bright yellow cycling jacket was better than any of the local flora, much to Alan's disgust as he hurriedly cycled off.
A nice 12% drop turned left before an alpine-esque hairpin to the right and suddenly we were at our lunchtime picnic site. It was 1pm and no-one really felt hungry enough for lunch, until we broke open the baguette and filled it with cheese and ham; it soon disappeared. The spot by the lake with all the ducks and coots was idyllic although a couple of benches would have been appreciated.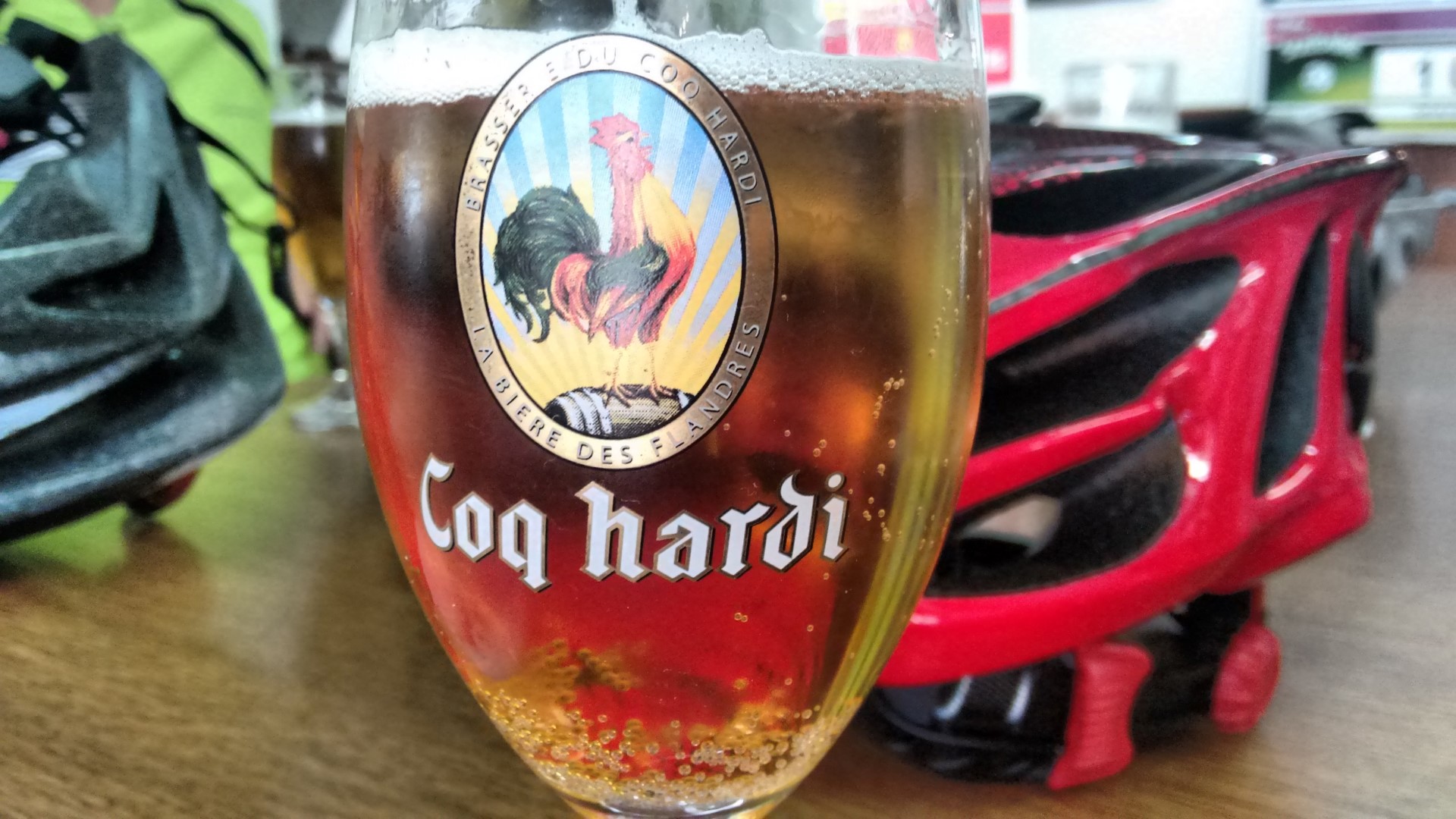 Forty-five minutes later and we're off again, heading down to Chars on the busier D915, still with very little traffic around us. Quaint Chars gave way to a deserted edge-of-forest road through Brignancourt, past the train station at Santeuil as we headed towards Themericourt. Shortly before the motorway-like D14 we headed east along the D51E and south, dropping down the 14% valley view road into Vigny. A stop at the Cafe de la Poste, with a coffee and a pression (small beer) by the name of Coq Hardi made us laugh; this day was going so well so far. Another 40 minute stop and we headed off to do the last 22km to our accommodation at Triel-sur-Seine.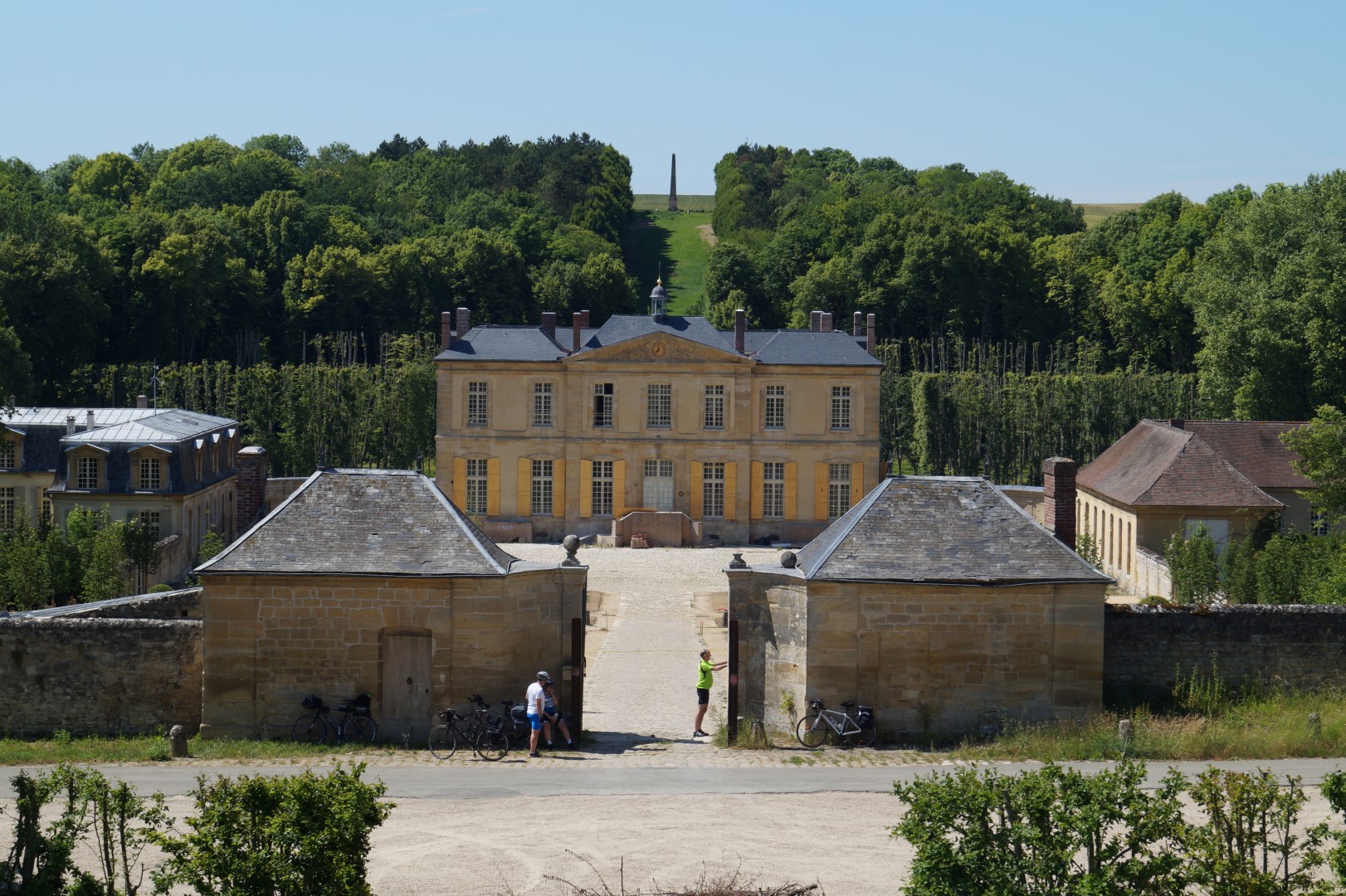 Through more rolling hills, the town of Longuesse to Condecourt and our only wrong turn of the day; we missed our junction but realised within 5 metres. That's as bad as it got for most of the trip. Except that is when we made our next stop near Teabing's Chateau Villette, one of the few roads I couldn't check with Google Streetview. One of the 'roads' was a horrid sharp-stoned-track so we doubled-back and chose another road, which also had its moments for 100 metres,
As we approached Meulan-en-Yvelines on the banks of the Seine we had what I'd consider our worst road of the trip, surrounded by lorries and us needing to turn left across the traffic, we instead opted to get off and cross the road by foot. The worst bit of road on the whole 4 days trip lasted a mere 500m.
It seemed an age on the flat road to Triel-sur-Seine before we could see the Seine properly and catch a glimpse of our accommodation for the next two nights, the Peniche Calyx floating on the Seine.
It had been a great ride, through superb countryside, rolling downhill for the majority of the time it seemed, we'd done 3hrs53 of cycling over a period of 6hrs20, climbing only 368 metres.