This page is what I took on my first trip, now I take less so check out the current kit page.
On this page is a picture of everything I took ON TOP OFF everything I'd normally wear/use/carry for a cycle ride…which can be summed up as…
– clothing: appropriate clothing for the weather… and Chamois Cream…and hopefully sun-tan lotion.
– tools: cycling multi-tool, pump/inflator/CO2-cartridges, 2 or 3 innertubes, tyre levers, emergency chain link (for the right chain!), chain tool, electrical tape (wrapped around pump), latex gloves (for changing tyres).
– food and water for part of the day's ride – there's always places to stop and buy stuff en-route (dependant on the day/time when in France).
Top section, left to right:
Spare cycling clothes: jersey, base layer top, bib shorts, socks. Not in the photo but taken and used a lot – wool jumper for on the boat and when dining outside in the evenings.
Clothes: t-shirt, lightweight zip-off cargo trousers, underwear
Cycling food: SIS Rego powder x 4, SIS Energy Bars 3x65g + 2x40g, 6 Torq energy gels (mmm, Rhubarb&Custard flavour), 20 SIS Go Hydro tablets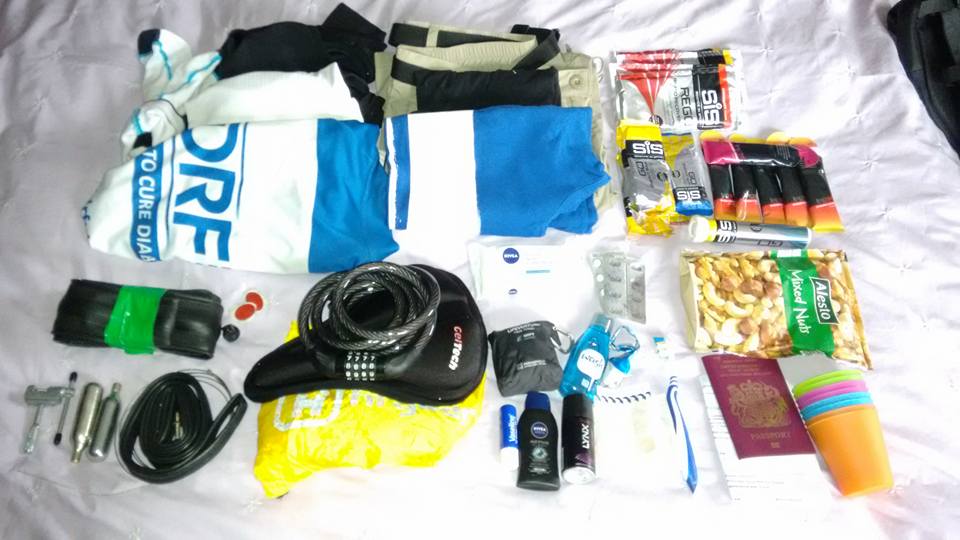 Bottom section, left to right:
Cycle repair stuff: spare innertube, chain tool, 2 x CO2 cartridges for pump, spare gear cable, innertube patches, spare tyre (I had one anyway, so why not). Not forgetting this is all in addition to what I normally carry for a ride (2 innertubes, pump+CO2 cartridges, multi-tool, tyre lever(s))
Other cycle stuff: bike lock (shared with Alan), pannier cover (just in case of rain), padded seat (I had one anyway, so took this but didn't need it).
Toiletries: travel shower gel, travel deodorant, travel wash (although never washed any clothes in the end), small microfibre towel (never used), toothbrush+paste, ibuprofen (never used), ProPlus (for Day2, never used), Nivea cleansing wipes (absolute God-send, great for chain grease on leg!)
Snack food: 200g mixed nuts for when I'm sick of gels…or cake (as if!)
Passport, tickets/emails, insurance documents and EHIC card
And most importantly some beakers for drinking wine during picnics.
AND MAKE SURE YOU TAKE (even though it's not in the picture)
Chamois Cream and sunscreen (which I forgot!).
I also took a lightweight wool jumper as I knew it would be cool on the roof terrace of the peniche/houseboat.
Would I take the same gear again?
Yes, I probably would and although I never really needed the following I wouldn't omit it to save a few grammes:
Chain tool, CO2 cartridges, tyres, cable, pannier cover, travel towel, travel wash, ProPlus, Ibuprofen.
I wouldn't bother with carrying the padded seat again as I never needed/used it.
I'd definitely take a spare set of cycling gear if going for 4 days. Although I intended to wash it enroute and never did we were lucky we never got sweaty on days 1 and 2. If we had then days 3 and 4 would have been quite smelly!
What did I take too much of?
The cycling energy food, I could have easily halved what I took of the Gels and Bars BUT I did use all 20 of the SIS Go Hydro tablets.
And finally…
There's two things which I'm so glad I bothered with taking/doing.
First, I fitted a stand to my bike, one which fits close to the rear axle point, which is important due to the balancing point when panniers are fitted. It meant being able to stop anywhere and stand my bike up, not worrying about laying it down (with heavy panniers on) or finding a stable place to rest it against (not always easy).
Secondly, I'm so glad I took my DSLR camera. For days 2 to 4 I wore it around my neck, with an arm through the strap and with the camera rest on my back. It wasn't heavy, it was comfortable and easy to swing around to take a photo.
If there's a third thing that made the trip go well…it's chamois cream.