Web site – Facebook – TripAdvisor – Google map
Is this place still open? I can't find their Facebook page anymore and Marie was quite proud of that. They had spoken about moving on in 2016 when we last stayed there, perhaps they have.
Last reviews on TripAdvisor are from August 2018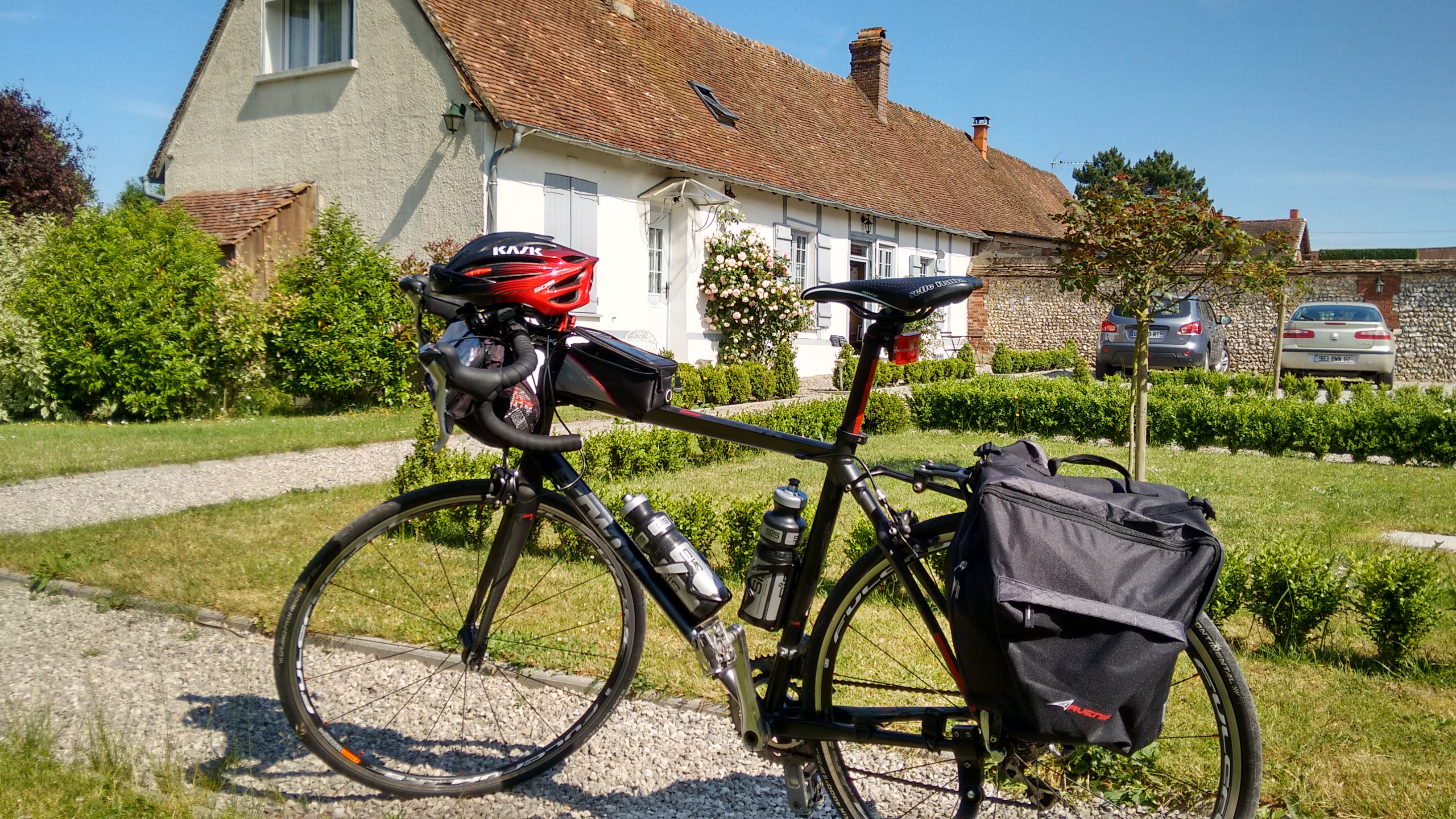 A great place to stay
This Chambres d'hotes, lies slap bang between Dieppe and Paris which makes it a great stop for those only doing a two day trip on the French side. For us though it was on the Dieppe side of halfway as we still had two days and 120km to do due to choosing the slightly longer but beautiful forest route into Paris.
In short this place has a lot going for it: wonderful hosts who will eat and chat with you; a gorgeous house in a tranquil area; comfortable beds; breakfast, woah, breakfast, how will my words ever do breakfast justice.
Oh, the breakfast…just wow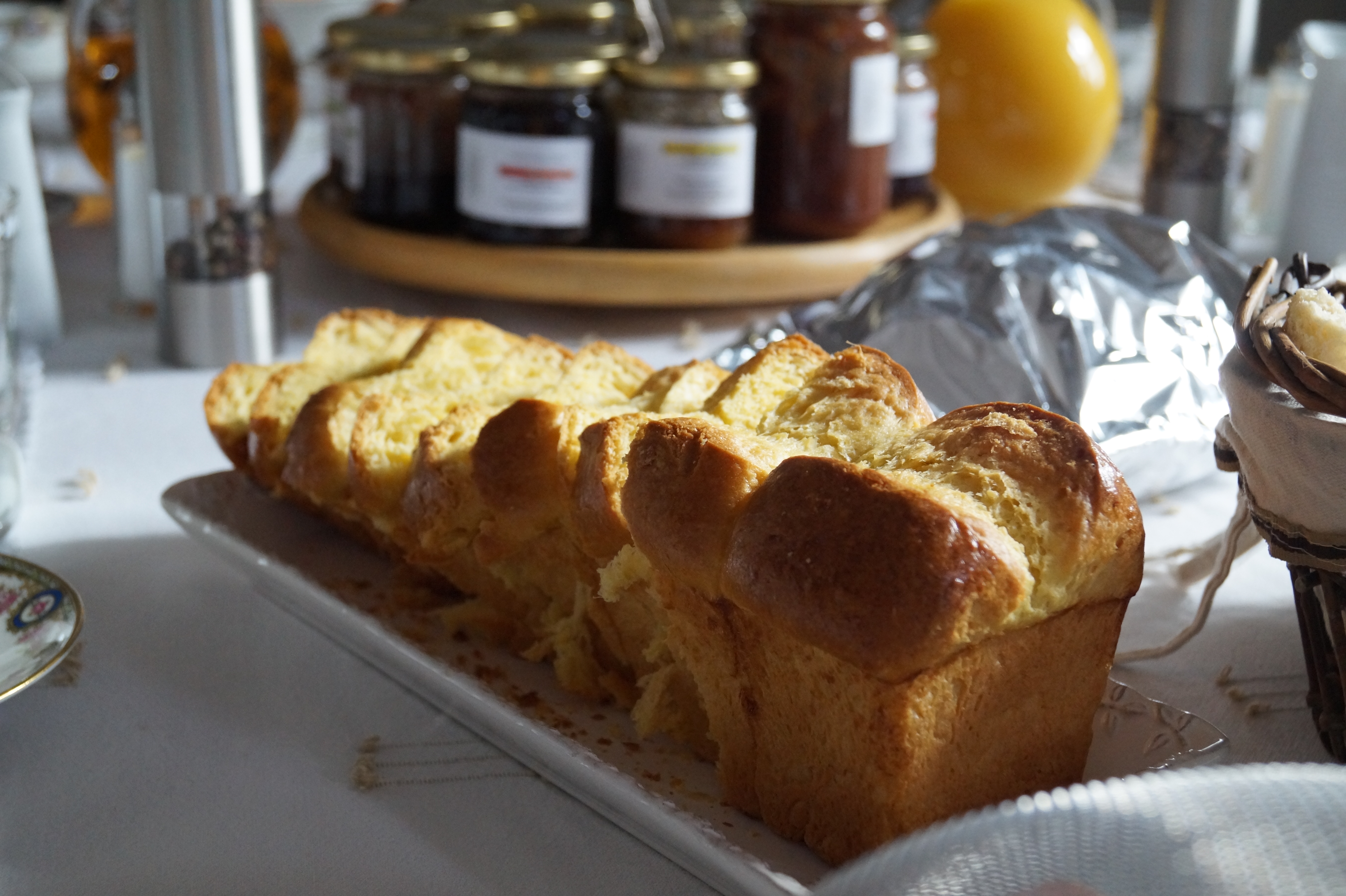 Personally I'm not much of a breakfast person, preferring a brunch, but after cycling 200km and a fair bit of drink the previous evening – I'll come to that in the next section below – I was ready for it.
We were first at breakfast, the other couple were sleeping in and Thierry had left around 6am. Marie had laid a superb table, a banquet of breakfast goodies to set us up for the day's ride ahead.
Like a kid in a sweet shop I didn't know where to start first but the call from the scrambled eggs and Jambon Sec was strong and I had a plate of that first.
Then I saw the brioche which Marie had made that morning, it was still warm and I got excited; warm brioche, home-made warm brioche. Wow.
Alan had started on the home-made pancakes (American style) so I had some of them next, whilst the others tucked into the fresh fruit juices and laden cheese board. I covered my pancakes with some of Marie's home-made Chocolate and Banana spread, which made Nutella seem so ordinary.
I took a little rest over some fresh coffee and surveyed the table and the home-made jams, chutneys and marmalades on the Lazy Susan in the middle. I'm not a fan of things like this but my wife is and as Marie sells jars I felt I should try most of them to find the ones my wife might prefer, so I could take some home. Of course the plus side was more brioche, little squares each with a dab of a different concoction.
If that wasn't enough food consumed for a whole day I took pity on the remaining scrambled egg and Jambon Sec and polished that off too. And I'd not even touched the fresh fruit, fruit cake, bread or cheese board.
That was the best breakfast I think I've ever had.
What a great evening
I had to write about the breakfast first as it was so great but actually the night before was quite special too.
We'd arrived just after 5pm and were welcomed by Marie who showed us around before returning to the kitchen cook our meal that night. Whilst breakfast is included in the price of the rooms the evening meal is extra and cost us 27 euros each, which got us a four course meal and a bottle of wine to share.
Marie's husband Thierry had arrived home from work and we chatted as he laid the outside table where we'd chosen to eat. Marie and Thierry prefer to join their guests (if that's okay with them) and for me especially their presence really made the night. Both of them speak great English, as well as knowing a fair bit of Portuguese and Spanish too.
My French is so-so, I can kind of get by, that is until I get drunk and then everything seems so much easier – although I understand that that is how I see it, the locals may not feel the same. Knowing this I'd made sure that Marie had wine to sell us as we wouldn't want to have to transport any there for the evening and it's a good job they had a fair few bottles 🙂
I'm no wine buff but the wine for dinner was from Cotes de Blaye and is our drink of choice every time we holiday near Bordeaux. I tried my french on Thierry talking about our holidays in France, then the cycling and after another bottle we moved on to talk about his job and life and stuff.
The laughter was flowing just as much as the red wine, a sure sign that everyone was having a great time.
At the end of the night we'd consumed four bottles between Alan, Tim and myself (as Sue wasn't really drinking)…and that was on top of the two bottles we had around 3pm.
In summary
It's hard to imagine that we could have enjoyed staying anywhere else even half as much as we did here.