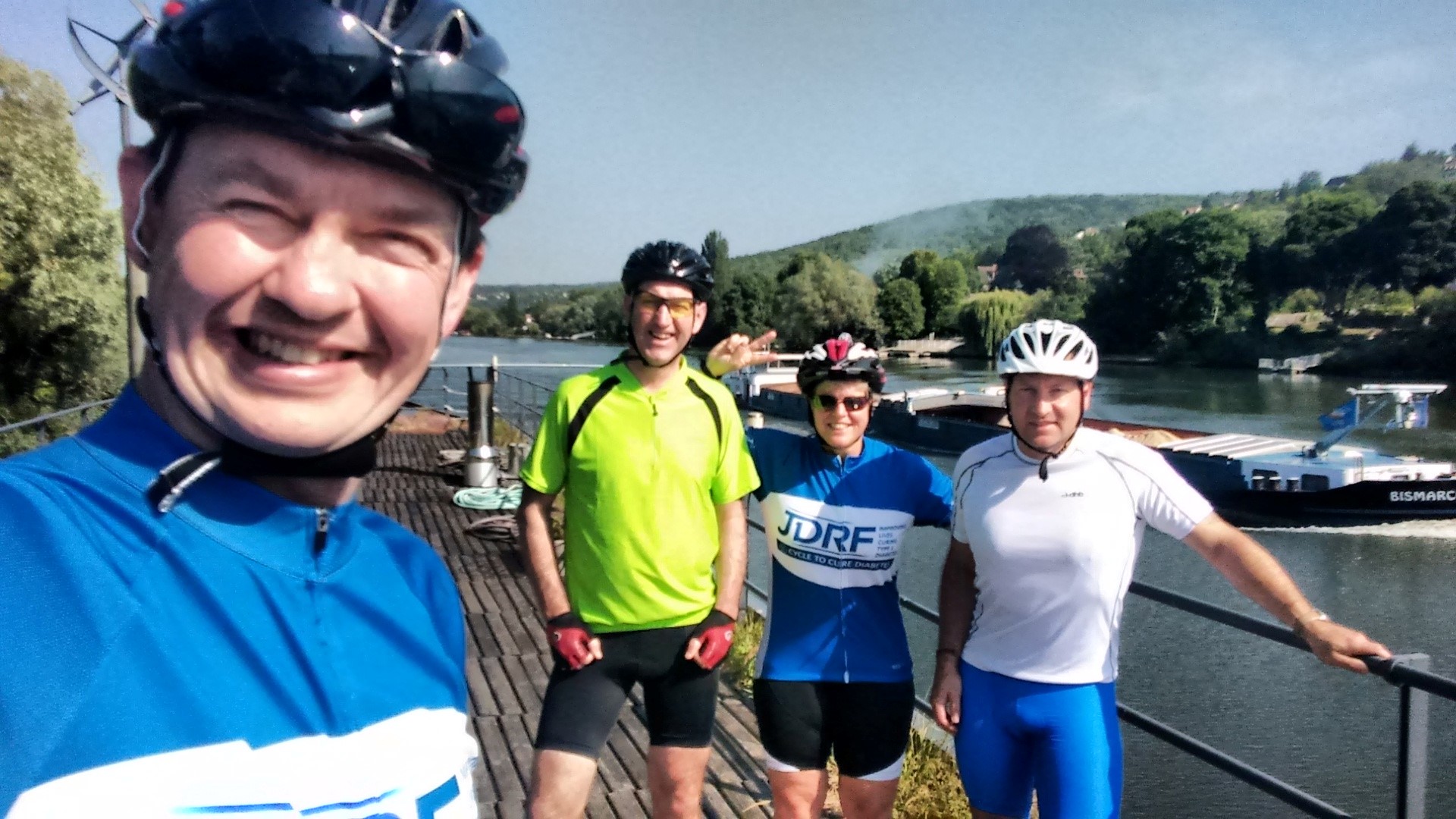 It felt strange waking up today: excited that soon we'd reach the Eiffel Tower after a long time planning and thinking about it; nervous that Paris roads would be awful, although I knew we weren't travelling on many roads; sad that soon this incredible journey would be over.
One thing I didn't feel though was tired. After 265km of cycling over the last three days my legs felt fine, everything felt fine. Today we were travelling lighter, the benefit of staying for two nights in the same accommodation meant that we could leave most of our luggage as it wasn't needed for the trip to Paris.
At 10:22 we set off, into the quiet streets on the Rive Gauche through Medan, Villenes-sur-Seine and on before being caught out at La Maladrerie by the hill which ramped up to 17% at one point, cycling past the local lad who struggled to push his bike up which showed us again how much stronger we'd become after the training and the trip itself.
This area was a bit rougher than we'd been used to in France and I was glad we were travelling through here in daylight.
Onto Rue de Chambourcy and suddenly the route didn't seem right, it pointed into the woods down the Route de Noailles but the path looked rough, only suitable for mountain bikes. We stopped, we looked confused and started to plan an alternative way to meet our route South East of Chambourcy. Out of the blue a local English cyclist appeared and explained the path got better soon; we're so glad he arrived when he did.
The forest was so quiet, so green and marked the way most of the trip into Paris would follow, there surely cannot be a nicer way to cycle into Paris than this route. Out of the forest and then back into another one, the Foret Domaniale de Marly le Roi, we hit today's biggest climb, the Route des Princess Climb at 2.5km long and an average gradient of 4%. Tim was in front and flew off into the distance, he was in the zone, no-one was catching him up, he beat me up there by 1min10secs! At the top it was time for a stop, a drink and a couple of photos, safe in the knowledge that for the next 17km there was hardly any climbing to be done.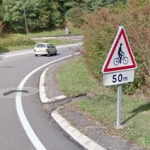 At Bailly it appeared that we were going to have travel on the D307, a really busy road and I grew concerned but continued to follow the slip road, so there was a great sense of relief when I saw the sign warning of the cycle path in 50 metres time. Phew. The cycle path continued all the way to Versailles where we stopped for another drink and more photos.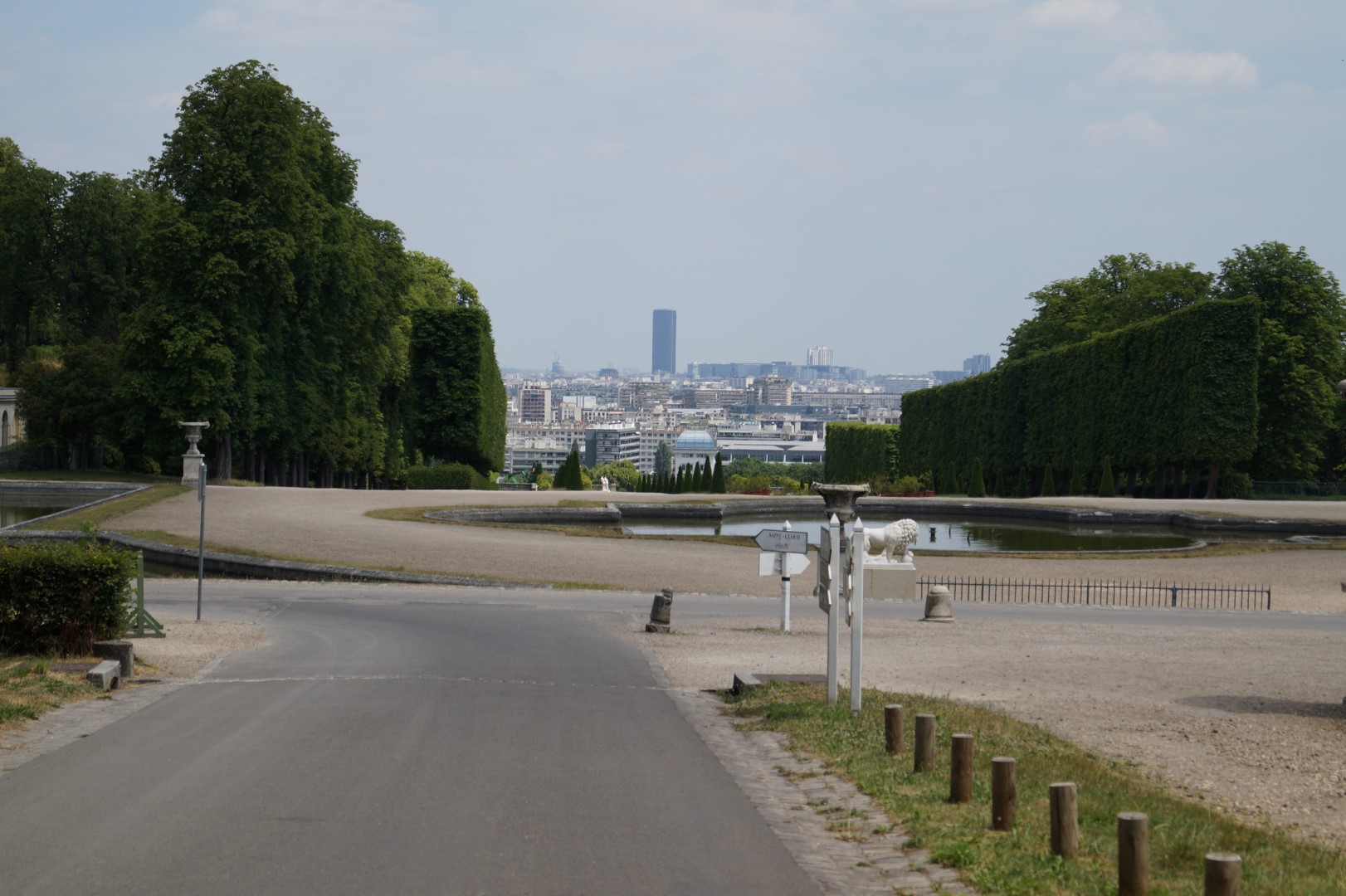 With Versailles behind us we conquered the 5%, 1km, Cote de Villeneuve L'Etang which was our last significant climb of the entire journey. Entering the forest which ultimately led us to a view of Montparnasse and our first glimpse of the Paris skyline, we'd almost made it.
At 2:22pm it was time for a coffee/lunch break in Saint-Cloud, but no-one really felt hungry as we were all eager to get to the Eiffel which came into our sight as soon as we set off.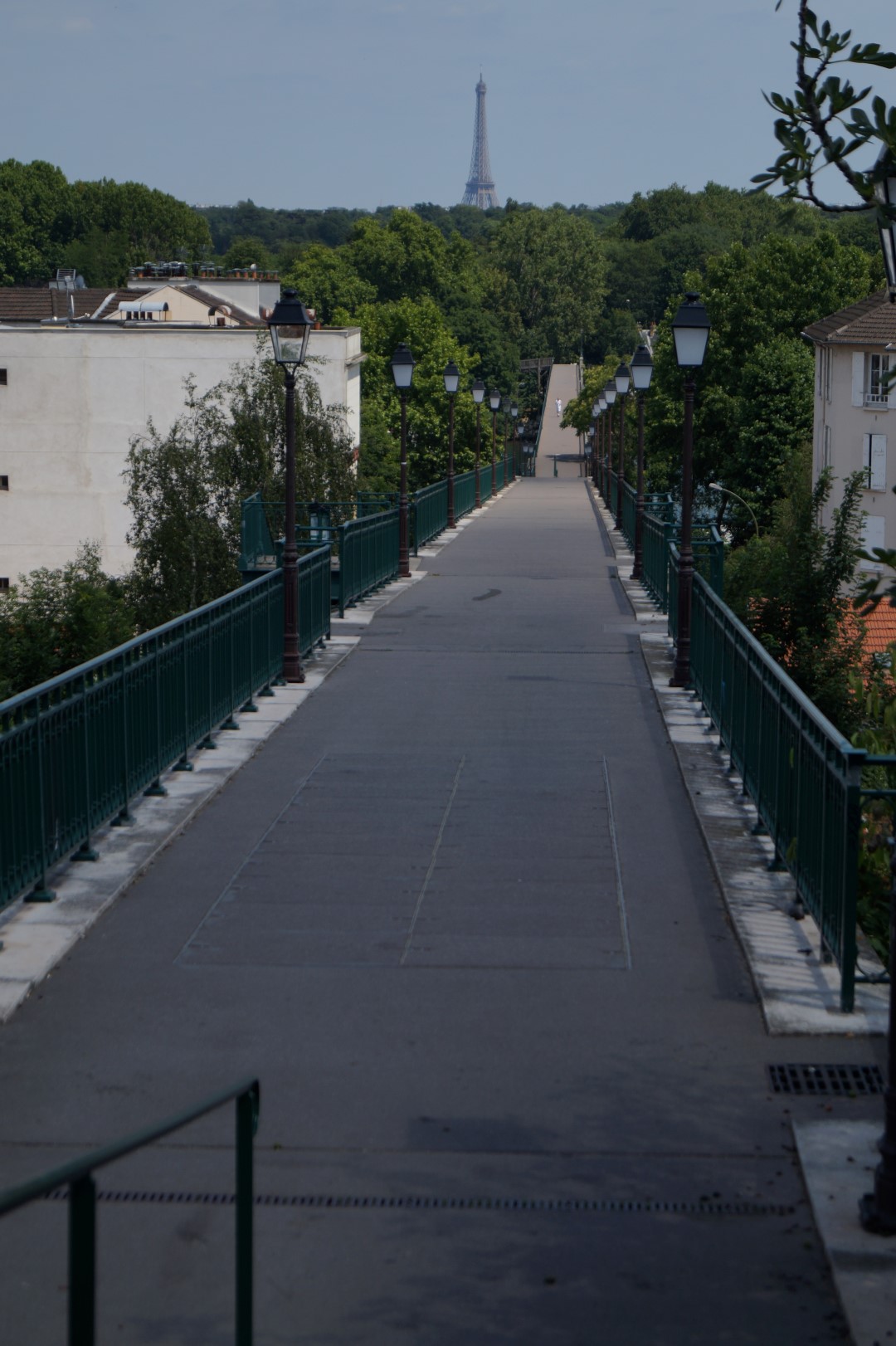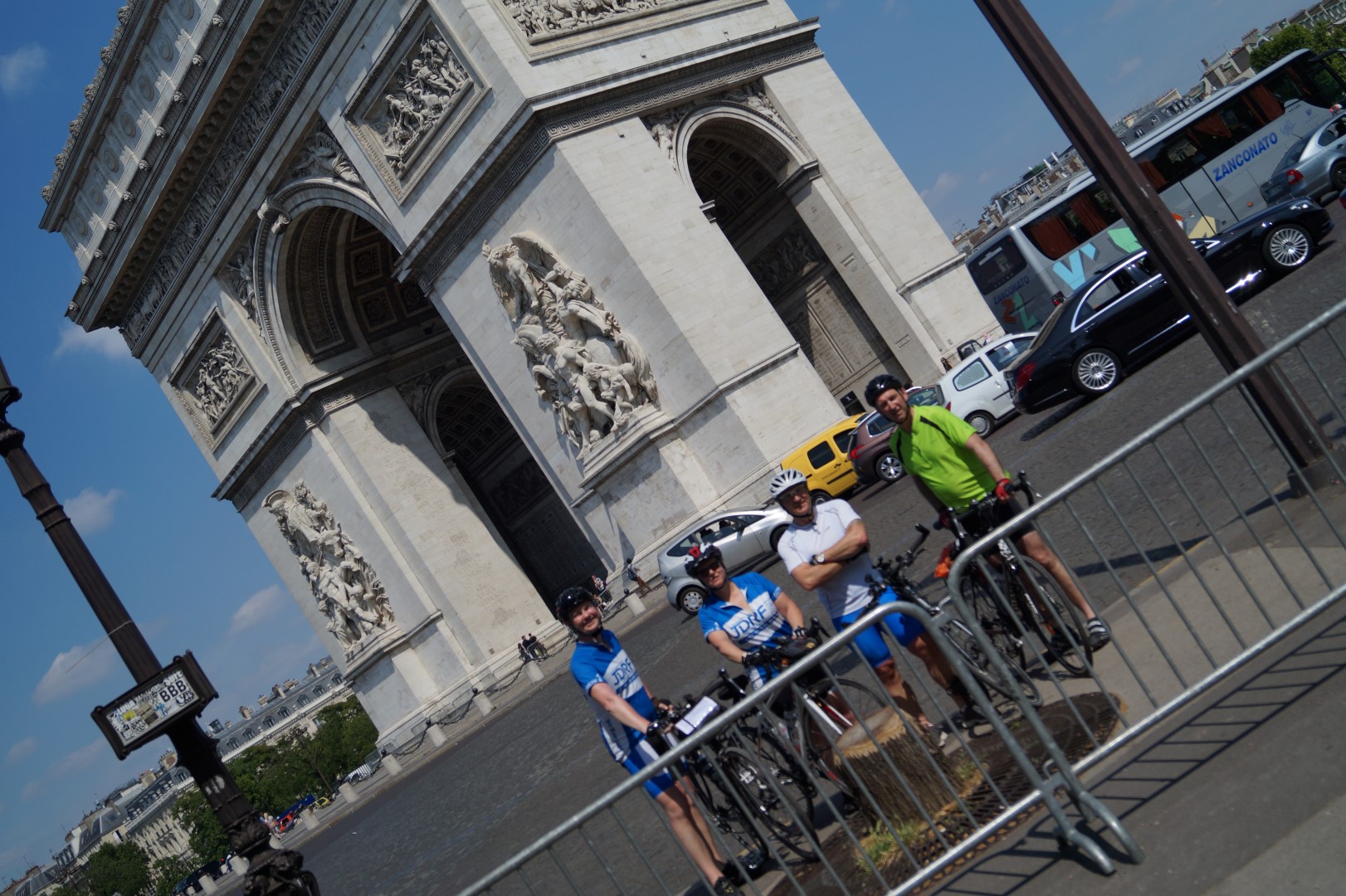 Crossing the Seine on the Passerelle de l'Avre we entered the cycle race track around the Hippodrome and burned up some of the hundreds of club cyclists out for some training.
The Allee de Longchamp, then Avenue Foch led us to Arc de Triomphe, where Tim, Alan and I decided to brave the traffic by doing a circuit. It turned out to be addictive and I racked up two double-circumnavigations before stupidly trying to bunny-hop the kerb and giving myself our first puncture of the trip. Yes, that's right the first puncture for any of us and it was down to my stupidity. Unfortunately on changing the tube I then snapped off the valve with only 10psi – that's not much at all – of air in it. Without a spare I had to roll all the way from there on in, which meant skipping the planned route to Trocadero.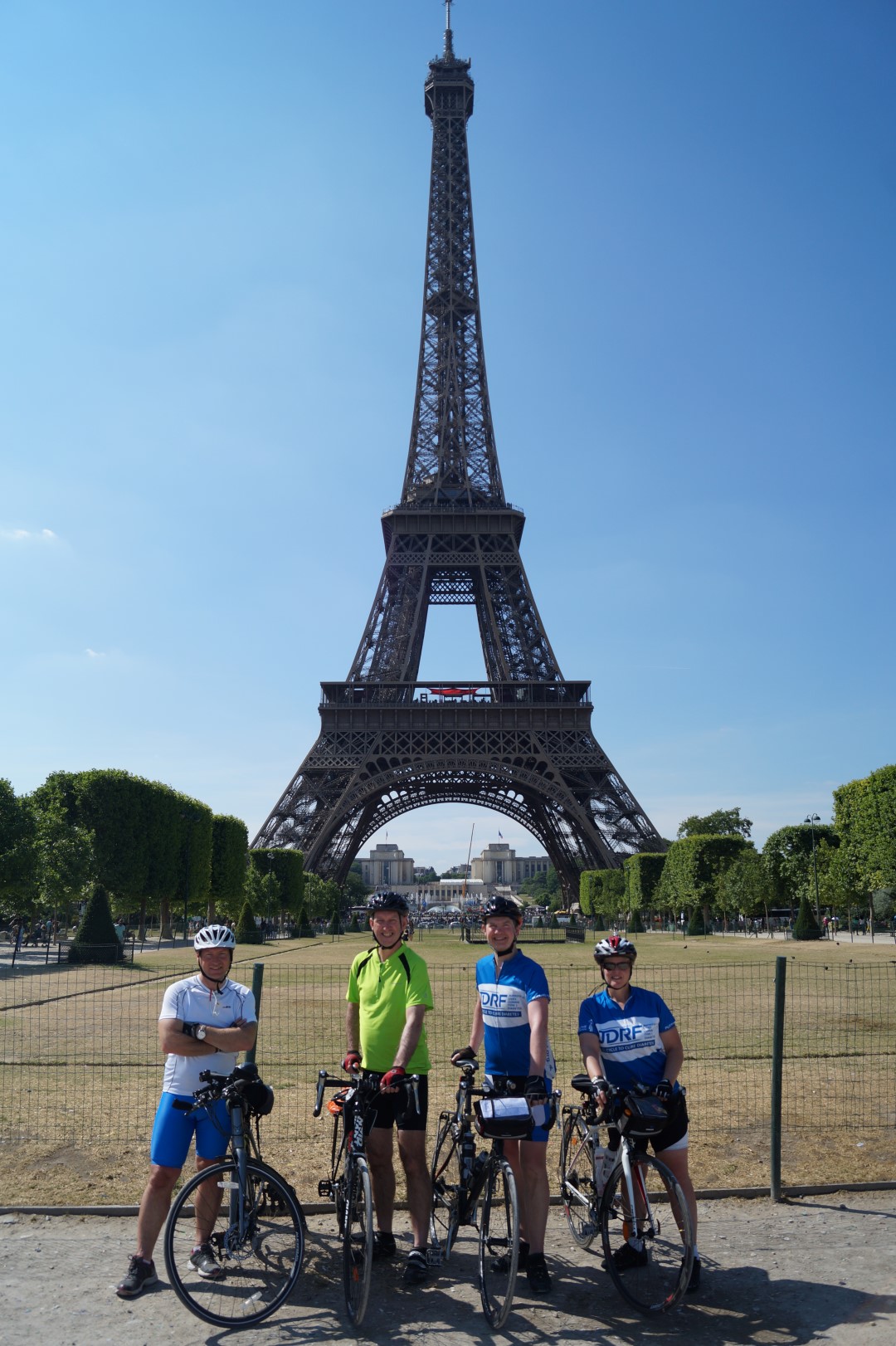 With just 2.5km to go we glided slowly down the Champs-Elysees, Avenue George V and Avenue de New York before crossing the Seine once again and reaching La Tour Eiffel.
We had made it.
320km.
Self-organised.
No support.
No issues.
Elated.