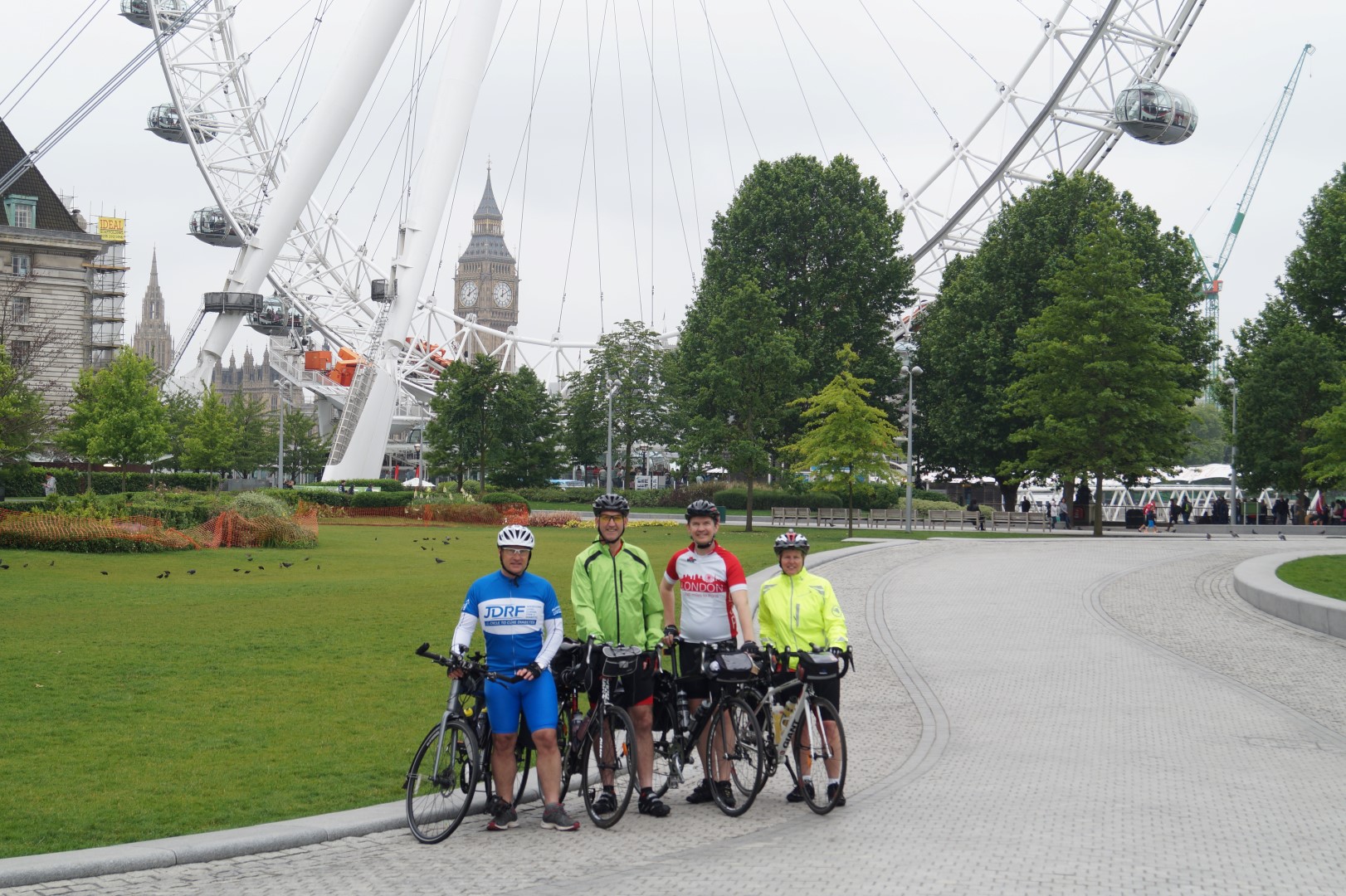 We travelled up to London with all four bikes on my wife's car so we were in need of a hasty drop off which is a difficult task near the London Eye. We parked up near the Royal Festival Hall on Belvedere Road, keeping a sharp eye for traffic wardens before waving goodbye to my wife as she drove off.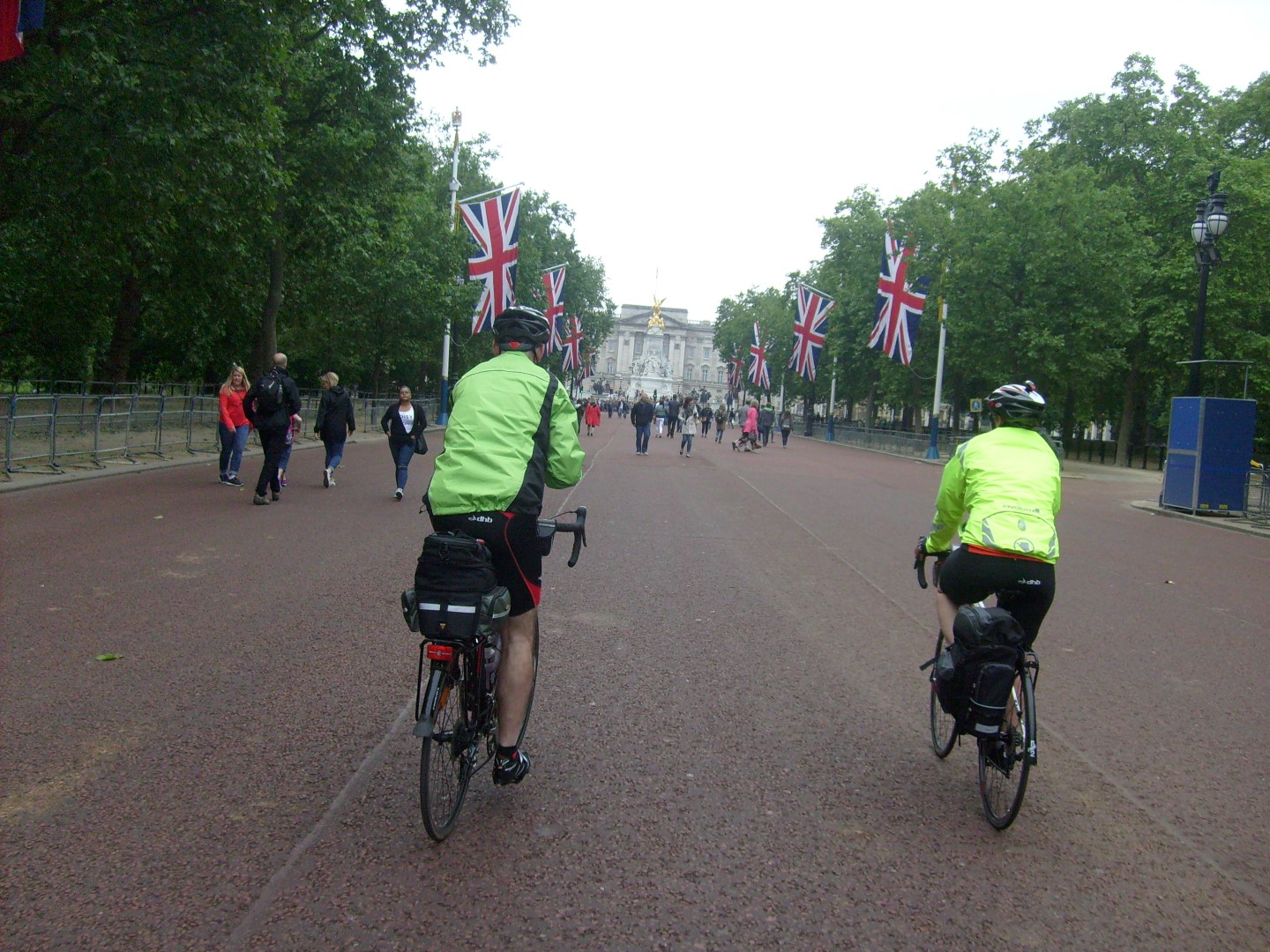 After a photo session in Jubilee Gardens performed by Alan's daughter Victoria and good friend Michael we set off on our travels. It was the day after Trooping the Colour so The Mall was closed to cars but streaming with hordes of sightseers blocking our way. Turning left at Buckingham Palace and heading down Birdcage Walk we turned right at the Houses of Parliament and felt like the trip had actually started as we winged our way towards Chelsea Bridge.
Down not-so-busy-Sunday roads we headed onto the path through Clapham Common, the first of many green parks in the first quarter of the trip. Through Tooting Bec Common, down the side of Figge's Marsh then skirting the right flank of Mitcham Common and finally stopping near Mitcham Station where we took our first little break at 19km in to the journey.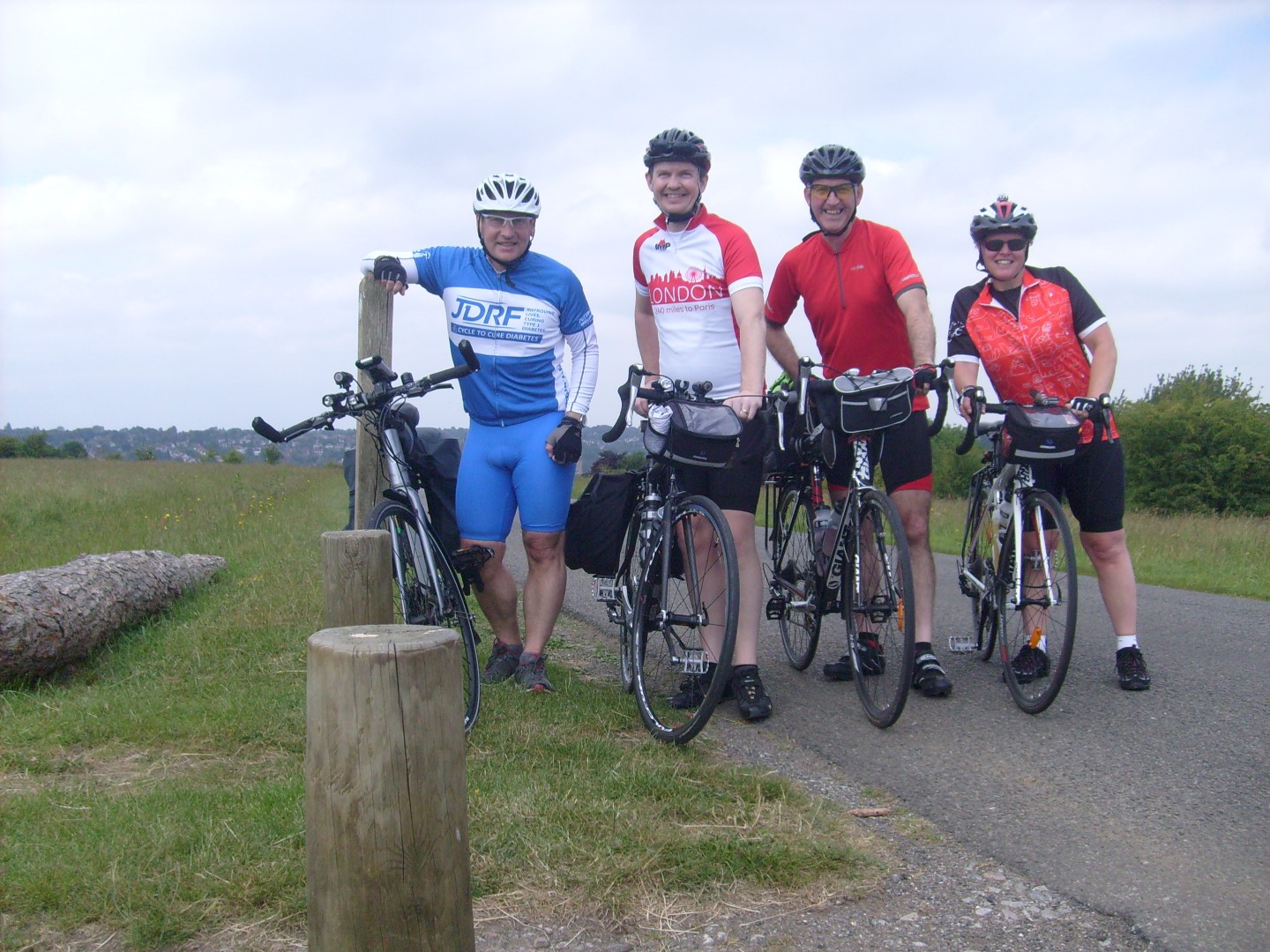 It no longer felt like we were in London, the roads were wider, less busy and soon our first climb started in Wallington. Over the next 4km the route climbed 80m before dropping down rather quickly into Coulsdon. From there the route soon became stunning as we ramped up the 5km climb (95m elevation)Â into the beautiful Farthing Downs, one of my favourite parts of the days. London had truly been left behind.
The 14%-gradient-brake-testing-descent dropped us close to the M25 a little quicker than we expected and marked a third of the journey done, before we stopped just short of Bletchingly for another brief drink/snack stop. This part of the trip was very enjoyable for me and passing the M25 broke a big psychological barrier. Up until now the trip had seemed quite easy, even the climbs and descents hadn't bothered me either. The section from Farthing Down to the M25 was simply stunning and hard to believe we were so close to London.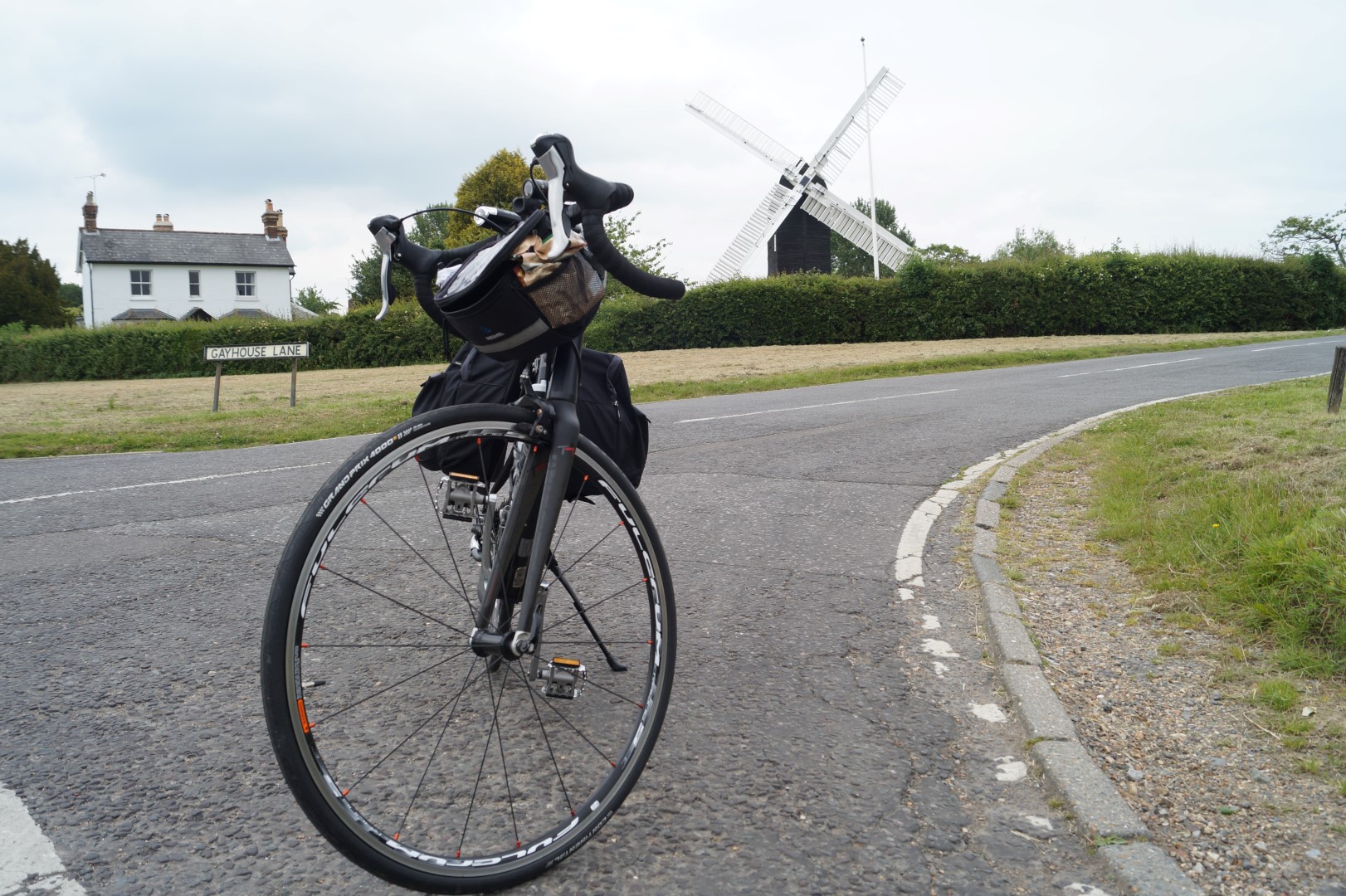 After some pictures by the Outwood Windmill and at 46km in (at 16:30), Sue departed towards Horley train station to catch a train to Lewes to meet us for the last part of the trip. This was a very sensible option as Sue had originally planned to do London to Newhaven over two days so she was in fine form for the French element of the trip, the bit she was really looking forward to. There's numerous train options at stations close to most of this route. The three of us were left with a couple of hours to do the next 42km to Lewes.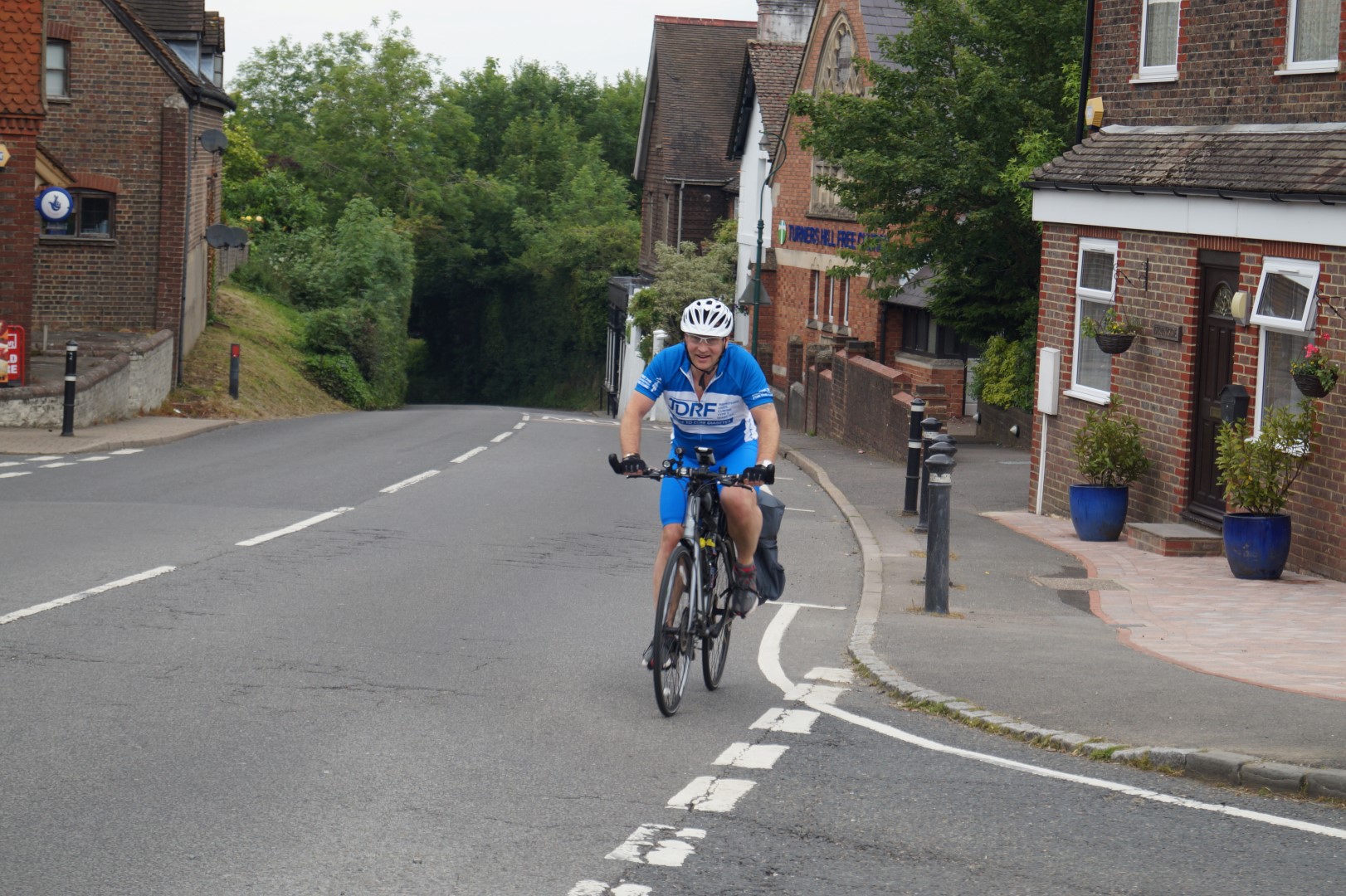 Tim, Alan and I all headed off, hoping to find somewhere to get a sandwich, we failed. We'd not eaten lunch and this turned out to be a mistake in my opinion as we weren't fuelling properly.
The gradual sloping 65 metre climb over the 7km towards Turners Hill slowed us down but the final 1.5km approach to the green at Turners Hill sucked the life out of us, cycling with extra kilos in the panniers sure does make the hills harder, especially those at a 10% gradient, whereas on the flat your don't really notice it.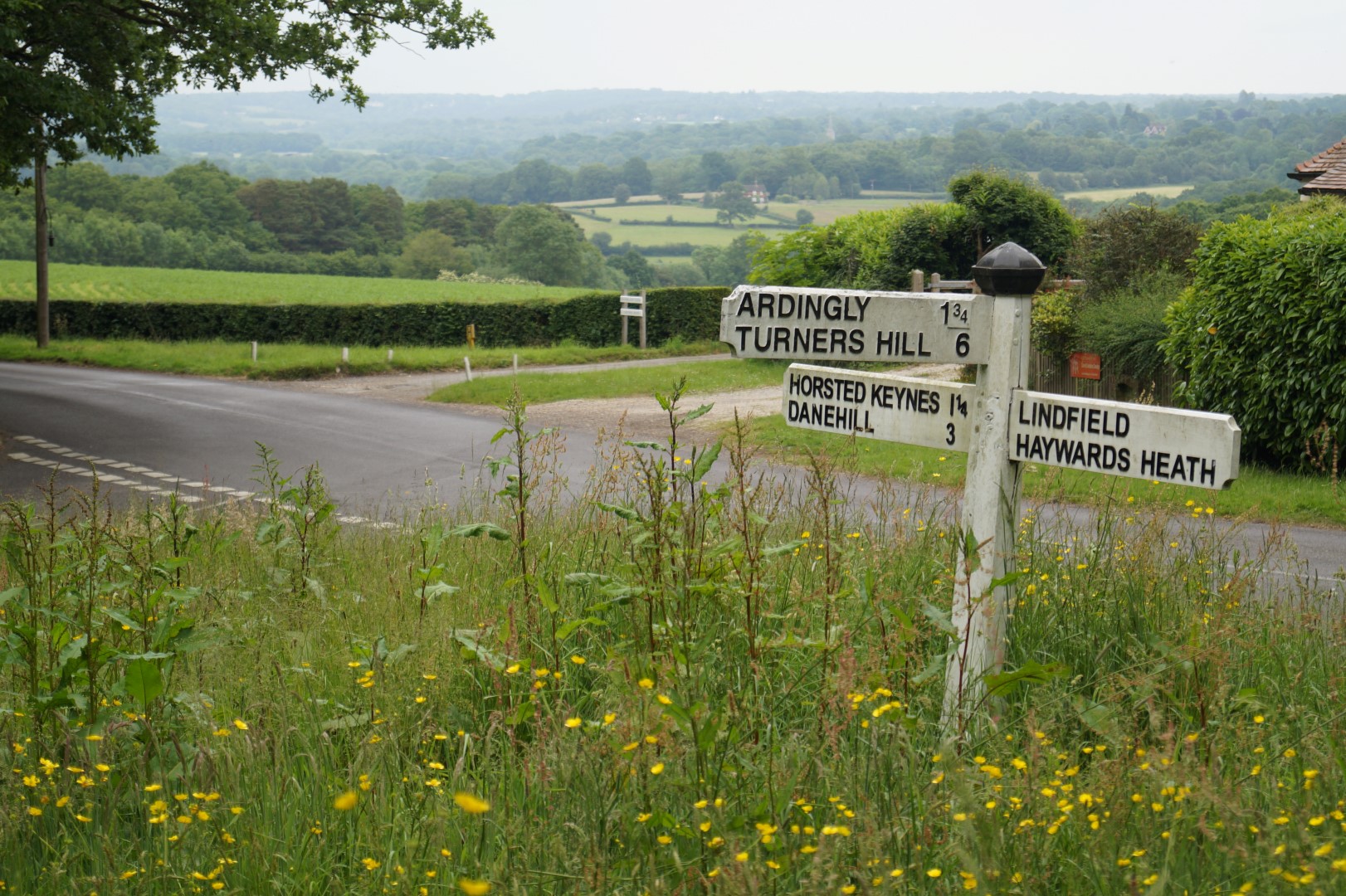 Stopping at Ardingly and it become clear that neither Tim nor I were going to make our 2x800ml water bottles last until Newhaven, in fact I was unlikely to make it the next few miles. Alan on the other hand wasn't drinking enough and still have over 1000ml left. On reflection today not fuelling properly today do not help us at all: I'd thought we'd find some shop to stop at and buy some food but we never did, there were lots of pubs to stop at but we didn't really want a long break, just a short stop. Typically the only shop we saw was at North Chailey (75km) and wanting to hurry up to meet Sue we decided not to stop; I wish we had.
The hills and miles rolled away and we stopped briefly near The Rainbow at Cooksbridge, knowing that there was a sharp climb and drop before getting into Lewes. Maybe it was because of the hills we'd already done but it didn't turn out to be too bad, although our legs were getting weary and any mention of the 'H'(ill) word was banned. (They're now called Slopes.)
At Lewes we met Sue by the station, she'd been there since 17:50, it was now 18:40. The four of us headed off for the final 12km of our 100.50km, trying to keep all together for the arrival but I found that my legs felt strong at that point and I just wanted to get it done and get to the end.
Arriving in Newhaven at 19:15 after 35 minutes and 12km on the road we headed to the The Drove, a large Brewers Fayre pub about 1 mile from the ferry terminal, where we stopped for dinner. It's fairly easy to get a table which overlooks where-ever you lock up your cycles. Being so close to the ferry terminal it's an ideal stopping point and it has a Premier Inn next door should you prefer to catch the ferry the next day instead of an overnight one.
After a hefty meal and a couple of beers which my tired eyes stared into for far too long we headed off to the ferry terminal, via a quick stop at the local Sainsbury's petrol station for some snacks for the night and early next day. (Top tip: those boxes of flapjack squares go down really well at 8am on the Avenue Verte.)
There's nothing at the ferry terminal that we could see and waiting there for our chance to board seemed like an eternity, all the time stood up with our bikes in an air which was cooling down. We reflected how we wished we'd stayed in the pub.