Here's what I took in 2019. My first trip saw me take a fair bit more stuff.
Have you read How to carry all the luggage yet?
On this page is a picture of everything I took ON TOP OF everything I'd normally wear/use/carry for a cycle ride…which can be summed up as…
– clothing: appropriate clothing for the weather… and Chamois Cream…and hopefully sun-tan lotion.
– tools: cycling multi-tool, pump/inflator/CO2-cartridges, 2 or 3 innertubes, tyre levers, emergency chain link (for the right chain!), chain tool, electrical tape (wrapped around pump), latex gloves (for changing tyres). There's enough cycle/sports shops or supermarkets en route that you can restock various bike bits if you use them up.
– food and water for part of the day's ride – there's always places to stop and buy stuff en-route (dependent on the day/time when in France).
Top section, left to right:
Passports, EHIC card, ferry/train tickets, hotel bookings, money (sterling, euros) and debit/credit cards
Food: rehydration tabs, 4 x SIS gels (with caffeine), 5 Clif Bars, 4 x SIS Rego recovery powder in a bag. I expect this to last the ride but if I consume more of it I'll just buy more en-route.
Clothes: Light jumper for cool mornings*, t-shirt, underwear, lightweight zip off cargo trousers/shorts.
*Packing lists should be adapted to suit the weather: I'd packed this yesterday and one day later the forecast says it'll be extremely hot, so out goes the jumper and in goes towel + swimming stuff!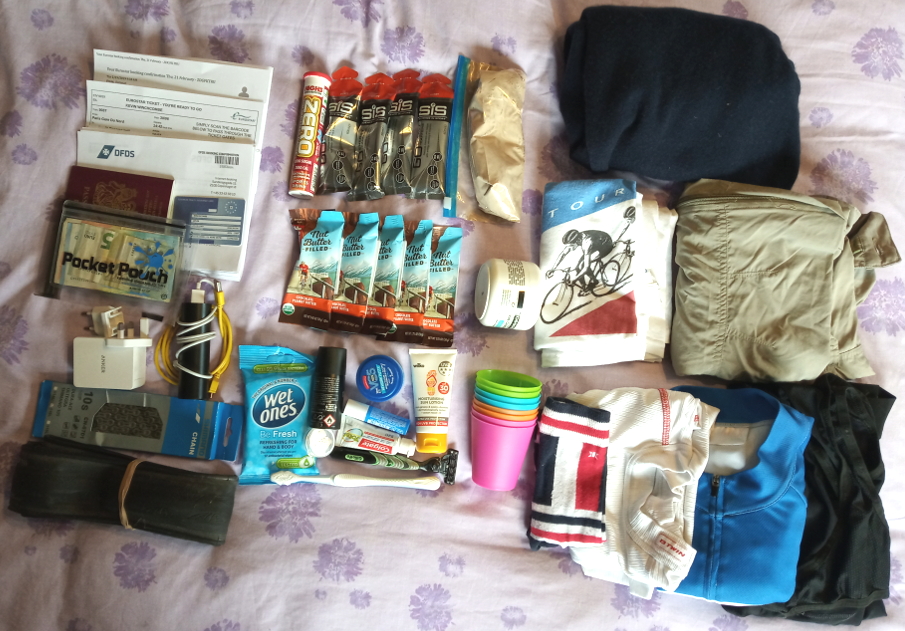 Bottom section, left to right:
4-port USB charger with UK/euro plugs, portable 5000mAh charger, USB cables, spare chain & tyre (because I have them), toiletries (toothbrush/toothpaste, razor, suntan lotion, lip balm, wet wipes (very useful)
Spare full set of cycle clothes
AND MAKE SURE YOU TAKE (even though it's not in the picture)
Bike lock if you think you might need one – useful on the boat for holding your bike up
Bungee cord – useful for holding baguettes on panniers for picnic lunches.
And finally…
There's one thing which I'm so glad I bothered with taking/doing.
I fitted a stand to my bike, one which fits close to the rear axle point, which is important due to the balancing point when panniers are fitted. It meant being able to stop anywhere and stand my bike up, not worrying about laying it down (with heavy panniers on) or finding a stable place to rest it against (not always easy).